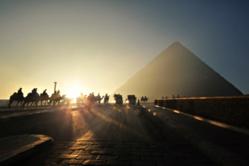 Ultimate customer satisfaction is guranteed
(PRWEB) November 16, 2012
Egypt Day Tours, an Egyptian travel company in Cairo launches today a new campaign to attract more tourists to visit Egypt. The campaign is called "No pre-payment needed". In which Egypt Day Tours will confirm your reservation and book your hotels and guides and client will simply pay at the end of the trip.
Egypt Day Tours, CEO, Mohamed Elattar said, "Such Payment policy will ensures that everyone works extremely hard to give the clients the holiday of a lifetime, otherwise no one gets paid. It is a new way to market tourism in Egypt to tourists all over the world. Our motto is If it is not okay, you will not pay."
No doubt services offered are excellent and cost effective. Many people avail the travel services of this firm and enjoy several benefits and make their trip memorable and enjoyable for a lifetime. Really this agency is the wise choice for every traveler. The program of this agency covers almost all major tourist attraction spots of the Egypt. Even in certain cases customer will receive discounts on certain tours.
The visitor can easily enjoy historic and remarkable places in Egypt by availing the services of Egypt Day Tours. Like Cairo Egypt tours offers an opportunity to explore the Cairo attractions such as chevron & Mykerinus, Pyramids Cheop and the sphinx will definitely attract the visitor's heart.
Apart from tourist attraction spot services here customer will also get airport transfer services at affordable prices. Airport transfer services are available to any destination as per the need of customer in Egypt. These services are available 24/7. By choosing a right service according to requirements one can easily make their trip hassle free. Egypt day tour offers different travel options such as mini van, limousine or big coaches. It is customer choice which one he or she will choose. No matter how many individuals, this agency will offer transfer that is completely professional and efficient at good cost.
One can easily avail the services of this agency just by following few easy steps. The booking will be confirmed within few minutes. Really Egypt Day Tours agency is the best alternative to make travel enjoyable and comfortable. Also customer will get different types of packages alternatives such as Egypt budget tours—8 days with Nile Cruise, Cairo tours—4 days,Egypt luxury tours and many more. Egypt Day Tours will respond you within the same day as per the request of their customers.