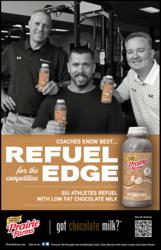 Teaming up with our new partners to provide Prairie Farms Chocolate Milk to their athletes is an exciting development for our company.
St. Louis, MO (PRWEB) November 15, 2012
Prairie Farms Dairy, one of the leading dairy companies in the Midwest, today announced that they have teamed up with the St. Louis Rams, the Indianapolis Colts, the Southern Illinois University Salukis and the Southern Illinois University Cougars to become their preferred dairy supplier.
"These partnerships provide Prairie Farms with the opportunity to reach professional and student athletes and their fans through a variety of marketing initiatives to spread the word about Refuel with Chocolate Milk; a national campaign created to raise awareness of chocolate milk's benefits as a post-exercise recovery drink," said Rebecca Leinenbach, Sales Program Director for Prairie Farms Dairy.
As the preferred dairy supplier for each sports franchise, Prairie Farms received the right to promote its Low-Fat Chocolate Milk with customized weight room signage, venue digital signage, print ads and website recognition. As part of the sponsorships, Prairie Farms Low-Fat Chocolate Milk is available to the athletes during training.
Other assets vary by partnership. The SIU sponsorships include a Prairie Farms Scholar Athlete of the Week feature. As part of the St. Louis Rams partnership, Prairie Farms is the title sponsor of the St. Louis Rams National Guard High School Game of the Week. The Indianapolis Colts partnership names Prairie Farms the "Official Milk" of the Indianapolis Colts and production of a special flavor of milk – Blue Vanilla Milk, featuring Blue, the Colts mascot.
"While awareness of chocolate milk's recovery benefits is on the rise, we still have a lot of opportunities to drive demand for chocolate milk," said Leinenbach "Our new partnerships will help us position Prairie Farms Chocolate Milk as a delicious, nutritious protein-packed alternative to other recovery beverages."
About Prairie Farms Dairy
Headquartered in Carlinville, Ill., Prairie Farms Dairy Inc. is a farmer-owned dairy cooperative. Founded in 1938, Prairie Farms manufactures and distributes a complete line of fluid milk and dairy products throughout the Midwest to retail outlets, schools and food service outlets.