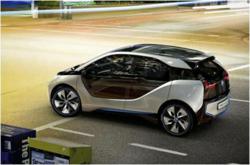 (PRWEB UK) 14 November 2012
THE Increasing cost of fuel is a massive challenge to businesses with company cars.
Now there's an opening statement by Caroline Watson, transport strategy manager at the Energy Saving Trust. "Fuel has increased 18% over last two years and it will continue."
And that's whether one gets a 3% fuel duty rise in January or not.
So what's the answer, many will wonder.
Business Car Manager has been at the ICFM conference today, hosted by BMW at the MINI factory in Cowley, Oxfordshire, debating just that. What is the answer to mobility for businesses and private individuals? It was the key theme of the ICFM conference.
The ICFM – the Institute of Car Fleet Management – is celebrating 20 years, during which time it has trained over 850 candidates in fleet management skills since forming.
"The fleet manager role has changed, it's disappeared in fact. Gone are the days when it was just the company cars, now it is far more complex," noted ICFM chairman Roddy Graham in his opening address.
As small business owners they might wonder at the luxury of having a fleet manager to look after their firm's company cars. But while this was a conference for industry professionals, there are many decisions that will affect what they drive in the future.
And fuel will be one of those.
It's not that car makers aren't making huge leaps, of course. Steve Chater, BMW's head of corporate sales, spoke about the difference in BMW cars over the 20 years.
"The BMW 320d EfficientDynamics has CO2 emissions of 109g/km – that's 103g/km better than its predecessor of 20 years previous."
It's also more fuel efficient to the tune of + 40mpg Steve added. "And a stereo is standard!" referring to BMW's original policy of charging for everything bar the steering wheel.
So that's massive progress in 20 years. "We're at the dawn of a new era for mobility with the imminent launch of the BMW i3," continued Steve.
The BMW i3, It's an all-electric BWW city car due to be launched next year under the BMW i sub brand.
Some will ask whether Electric cars could be the answer.
Yes…And no, Like all things, there's no one correct answer. The future of the business cars depends on the owners company car policy provided to their company car drivers, it might be any one of petrol, diesel, hybrid, plug-in hybrid and electric. It might even be hydrogen powered.
The likelihood is that their company cars may well contain a mix of all of these depending on the needs of their drivers – and the requirements of their jobs.
Business Car Manager has a variety of useful guides including business car lease, business car profiles and detailed reviews including SEAT reviews among others.
For more information visit: http://www.businesscarmanager.co.uk or contact their editors at: 5581943.