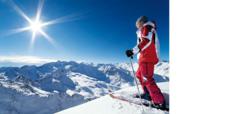 Everyday socks will not provide insulation and protection
Kent (PRWEB UK) 15 November 2012
Should this be the first skiing holiday Luggage Superstore has listed below some items to take on the next skiing holiday so that it is a holiday that could be a lot more enjoyable by not forgetting a few basics.

Some skiers take their own skis as they become quite attached to them. However, as a word of caution, if you are taking your own skis do not buy second hand skis. Buy brand new ones or hire ones at the ski shop and have them fitted and tuned by the professionals at the ski shop. Badly fitted skis cause knee and leg injuries.
Board bags for skis. Remember to confirm with the airline on items this length as some may impose extra charges.
Good walking boots- waterproof boots that are very sturdy and durable.
Get proper skiing socks. Everyday socks will not provide insulation and would cause blisters and great discomfort. Get insulation socks, which surprisingly are very thin but will have protective padding for the shins. Most of the padding will be from the boots-hence get good ones as previously mentioned.
Layers and layers of clothing is what every skier needs. It is important to be able to easily shed or add on layers on clothing. Avoid taking just a couple of bulky large jumpers or bottoms. Layering is the key to the warmth needed. Most importantly is to get clothing made of quick drying fabrics.
Skiing jackets and Salopettes. The ski shops can help a lot with choosing a good one.
Think moisturiser is essential for stopping the skin from drying out. The quality needs to be a lot thicker than every day moisturiser.
Sun block and lip balm are ones that would prove to be great protection to the vulnerable parts of the face, like the lips, cheekbone, nose tips and forehead.
First aid kit for nursing any minor injuries or blisters etc.
A small backpack for carrying first aid kit and other smaller items.
Luggage Superstore's established site is in West Kingsdown, Kent. Their aim is providing competitive prices of the highest quality luggage and top calibre Customer Service for online luggage shopping.
Trina Chee-a-kwai
Luggage Superstore
01474854666
Email Information