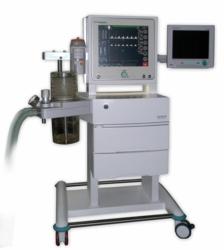 The enhancements to AdAM illustrate Heyer's commitment to meeting healthcare provider's demands for increased security for Electronic Health Records (EHR) both internally as well as for government compliance's such as HIPAA
Bad Ems, Germany; Mclean, VA U.S.A (PRWEB) November 15, 2012
HEYER Medical, AG in partnership with its cyber-security technology integrator, SENGEX LLC, are pleased to announce the development of enhancements to their VentorTM AdAM anesthesia platform to meet increased security compliance requirements.
The new release of Ventor AdAM integrates a complete end-to-end security model that provides for a highly efficient and protected internal system and patient-related data, as well as assures for the protection of this data when in transport between the system and healthcare IT systems or cloud-based storage architectures.
AdAM assures that data in rest or in motion is secure across all aspects of the system from the hardware layer up to network communications and delivery. AdAM's security model incorporates encryption and data parsing technologies unseen in the medical industry today.
"Technology executives within healthcare organizations are under increasing pressure to secure healthcare data and at the same time reduce operating expenses and drive incremental value to the healthcare facilities business", said Klaus Schickhaus, president of Heyer Medical AG. "The enhancements to AdAM illustrate Heyer's commitment to meeting healthcare provider's demands for increased security for Electronic Health Records (EHR) both internally as well as for government compliance's such as HIPAA."
"Proven through our past joint development on Heyer's Advanced Remote Management Services (ARMs), Heyer recognizes the need for increased security in healthcare equipment", said John Meincke, CEO of Sengex. "Our work with AdAM further validates Heyer as an industry leader in incorporating security capabilities that meet and exceed mandates for electronic patient-related information concerns."
AdAM's security technology has also been designed to be easily extendable to other healthcare appliances which may need access to the data such as tablets and mobile devices.
Visit HEYER in Hall 11 B19 at MEDICA to learn more about Ventor AdAM, or visit http://www.heyermedical.de.
About Heyer Medical AG
HEYER is an internationally acknowledged specialist in state-of-the-art inhalation and anesthesia equipment, ventilation and patient monitoring, oxygen concentrators, breathing therapy equipment and connecting equipment.
Their products are used all over the world (over 60 countries), particularly in the medical field, in clinics and practices in Europe and Asia as well as in the Middle East, South America and the USA. Their inhalation equipment is also increasingly used in wellness applications and for treatment and care at home.
About SENGEX LLC
SENGEX provides data and wireless security solutions to government and commercial organizations, assuring their businesses information is safe from ever evolving cyber threats. SENGEX focuses on providing highly innovative data security solutions across all aspects of business operations that meet business's internal and regulatory requirements as they relate to electronic information sharing across the organization or between partners and vendors.
Combining leading edge software technology with real world experience, SENGEX delivers innovative security solutions quickly and economically, providing customers the comfort their mission critical data is safe from risk at rest or in transit across public and private networks.