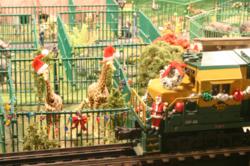 Strasburg, PA (PRWEB) November 14, 2012
The Holiday Display:
Celebrate the holiday season as the Choo Choo Barn transforms Traintown USA® to bring the magic of Christmas to its gigantic model train display. For the second year, the homes and businesses along the tracks have decked their halls to share holiday spirit with the public from November 23 to December 31, 2012.
Search for the 51 hidden Santas and watch as Santa's sleigh flies above the 1,700 square foot model train extravaganza, which includes 150 hand-built animations and 22 moving trains. Enjoy the holiday decorations throughout the display including holiday lights and the snow-covered landscape. Plus, take a close look at the zoo animals in Traintown to see how they're celebrating the season.
24th Annual Canned Food Fridays:
Help the Choo Choo Barn feed local families in need by making its 24th annual food drive a success. Canned Food Fridays returns to the Choo Choo Barn in Strasburg, PA on December 7, 14 and 21, 2012 from 10:00 a.m. – 8:00 p.m. The food drive will benefit families in both Lancaster County and Chester County.
Admission to the Choo Choo Barn's gigantic model train layout is free for those who donate at least one non-perishable food item on Canned Food Fridays. The 150 hand-built animations and 22 trains, which operate on the 1,700 square foot model train display, will amaze visitors of all ages. The display will be decked out with holiday decorations, 51 Santas and some Christmas magic! After exploring the unique model train display, children are invited to visit with Santa Claus at The Shops of Traintown, from 3:00 p.m. – to 8:00 p.m. As a special treat, children will receive a gift from the Choo Choo Barn and a coupon for a free cookie at Isaac's Restaurant & Deli in Strasburg from Santa.
The thousands of canned goods collected this year will be donated to the Lampeter United Methodist Church Food Cupboard and the Chester County Food Bank. The Lampeter UMC Food Cupboard feeds hundreds of families from the Lampeter-Strasburg and surrounding areas every year. The Chester County Food Bank distributes over 1,000,000 pounds of food per year to more than 60 organizations, including food cupboards, area nonprofits and shelters.
About the Choo Choo Barn:
The Choo Choo Barn is located along Route 741 East in Strasburg, PA. The display is open daily from 10 a.m. – 4:30 p.m., now through December 31, 2012. (Display closed November 21, 22 and December 25). Admission price is $7 for adults and $4 for children ages 3-11. For more information please call (717) 687-7911 or visit http://www.choochoobarn.com or http://www.facebook.com/choochoobarn.