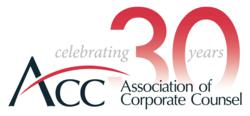 ACC members are in-house counsel at more than 10,000 organizations in the U.S. and worldwide.
Alexandria, Virginia (PRWEB) November 16, 2012
Marketing General Incorporated (MGI) has been appointed list manager for the direct mail list of the Association of Corporate Counsel (ACC), a global bar association representing more than 30,000 in-house counsel, effective November 17. These busy, ambitious legal professionals work in corporations, associations, and other private-sector organizations in the U.S. and more than 75 countries.
ACC is the voice of the in-house bar, and promotes the common professional and business interests of in-house counsel through information, education, networking opportunities and advocacy initiatives. As in-house counsel, they must be constantly alert to a wide variety of legal and business issues ranging from intellectual property to securities, from labor and employment law to insurance, from real estate to eCommerce.
Members of ACC are employed by over 10,000 organizations in more than 75 countries, and they rely on the association for continuing education, regular updates, and ethical guidance as new legal issues evolve.
The postal mailing list is available to help mailers reach these influential professionals with marketing offers to satisfy continuing legal education requirements as well as sharing industry knowledge or expertise and helping members stay current on new products or services. The list is also available for recruiting offers.
Direct marketers may select the overall ACC file of more than 15,000 available names or the approximately 12,600 opt-in active members who are U.S. based. Many other selections are available.
The list is 100% direct-mail generated and frequently updated, CASS-certified, and the NCOA certificate is available for U.S. addresses on request. The list was previously managed by InFocus.
For more information on the Association of Corporate Counsel mailing list and other MGI List offerings, please contact List Manager Noah Poissant, 703.706.0393, NPoissant(at)MGILists(dot)com, or visit http://www.MGILists.com.
###
Marketing General Incorporated brings to associations and businesses more than 30 years of strategic insights from testing, market research, and data analysis of member behavior and membership marketing.