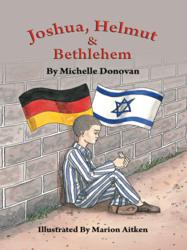 This book explains that unconditional love and acceptance are the keys to creating a better tomorrow for our children
British Columbia (PRWEB) November 15, 2012
Time after time, research shows that friends are a vital part of a child's health development, particularly if that child has a less than satisfactory personal life.
Michelle Donovan, who was born and raised in France during World War II, knows this well. In her new children's book, Joshua, Helmut and Bethlehem, Donovan draws upon her family heritage to tell the story of a powerful friendship that endures tests of time, culture and religion.
"With the ongoing decline of moral values in today's society, this book explains that unconditional love and acceptance are the keys to creating a better tomorrow for our children," Donovan says.
In the book, Joshua, a young Jewish boy living in a concentration camp, meets Bethlehem, a friendly mouse and Helmut, a young German boy who would eventually save Joshua's life. When unusual circumstances force this unlikely trio together, the friendship that ensues proves that even in the midst of hate and war and amongst cultural differences, we can all learn to love, accept and forgive.
"I think this book will help children of difference ethnicities come together and learn to appreciate each other's differences," says Donovan.
Joshua, Helmut and Bethlehem
By Michelle Donovan
ISBN: 978-1462058679
Approx. 46 pages
Paperback 6x9
Retail price: $8.95
E-book price: $3.99
Available at Amazon, Barnes & Noble, iUniverse
About the author
Michelle Donovan was born in Clermont-Ferrand, France during World War II and grew up with her grandparents in a city called Riom. In 1968, Donovan immigrated with her sisters to Canada; initially to Quebec then settling in British Columbia. Donovan now lives in Maple Ridge, B.C., Canada, where she spends her time writing fiction and non-fiction stories for children and teens.
# # #