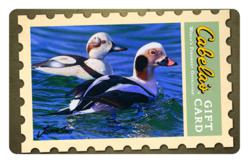 We were thrilled to work with Joshua on this project. His work is just amazing.
Watertown, SD (PRWEB) November 15, 2012
Artwork by international award-winning wildlife artist, Joshua Spies, will be featured a second time on Cabela's gift cards.
Spies Federal Duck Stamp will be one of the images available on Cabela's gift cards. Spies won the competition in 2008 with his depiction of a male long-tailed duck floating with a wooden decoy.
The second image Cabela's, the World's Foremost Outfitter® of hunting, fishing and outdoor gear, will use is a recent release featuring two elk circling, called "Even Odds."
"Joshua's painting of the mule deer was a popular choice for our customers last year," said Colleen Dorwart, Cabela's Gift Card Services Senior Manager. "We are happy to be able to work with Joshua again, using two images this year."
In 2011, Cabela's decided to feature Spies' artwork after researching him and learning he was the epitome of a Cabela's customer. He is an outdoorsman, a conservationist and a hunter.
"We were thrilled to work with Joshua on this project," Dorwart said. "His work is just amazing."
The giftcards with Spies' "Even Odds" and Federal Duck Stamp images will bear Cabela's gift card titles of "Elk Challenge" and "Duck Stamp." The cards will be distributed to all Cabela's retail locations nationally and can also be purchased through their catalog and on the Cabela's website. There is also an electronic gift card (eGiftCard) version available on their website (Cabelas.com). Cabela's, a member of the Retail Gift Card Association, sells thousands of gift cards every year.
"I'm elated to be working with Cabela's again this year," Spies said. "They have such a rich history and I'm proud to be a part of it."
About Joshua Spies:
Joshua Spies is an international award-winning artist from Watertown, South Dakota. He earned his fine arts degree at South Dakota State University and has traveled the world observing and photographing wildlife. Joshua has been a finalist in the Federal Duck Stamp competition five times and won the competition in 2008. The fall 2006 Wildlife Art Magazine named Joshua one of the top 16 wildlife artists, and Dallas Safari Club announced Joshua Spies as the winner of their prestigious 2007 Artist of the Year. Joshua's most recent award was being named the 2011 Safari Club International Artist of the Year. A dedicated conservationist, Joshua is a life member of the Grand Slam Club, the Foundation for Wild Sheep, the Rocky Mountain Elk Foundation, Pheasants Forever, Safari Club International, Ducks Unlimited, Dallas Safari Club, and ISHA. He is also a member of Whitetails Unlimited, Mule Deer Foundation, Delta Waterfowl, and the NRA.
About Cabela's:
Cabela's Incorporated, headquartered in Sidney, Nebraska, is a leading specialty retailer, and the world's largest direct marketer, of hunting, fishing, camping and related outdoor merchandise. Since the Company's founding in 1961, Cabela's has grown to become one of the most well-known outdoor recreation brands in the world, and has long been recognized as the World's Foremost Outfitter. Through Cabela's growing number of retail stores and its well-established direct business, it offers a wide and distinctive selection of high-quality outdoor products at competitive prices while providing superior customer service. Cabela's also issues the Cabela's CLUB Visa credit card, which serves as its primary customer loyalty rewards program. Cabela's stock is traded on the New York Stock Exchange under the symbol "CAB".