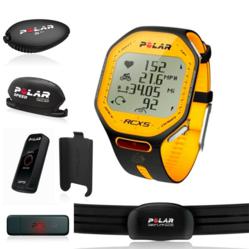 There are only a few of these Polar RCX5 limited edition Tour de France Premium bundles left world wide and when they are gone, that is it because Polar is not producing anymore of them
Bozeman, MT (PRWEB) November 14, 2012
The Polar RCX5 Tour de France Premium Bundle was produced as the official training computer for the 2012 Tour de France and Heart Rate Watch Company will have them at a savings of over $250 for a limited time only.
"The premium bundle has the G5 GPS, bike speed sensor, the S3+ foot pod, Datalink stick, Hybrid chest strap and everything necessary to cover all outdoor sports", says Rusty Squire, President of the Heart Rate Watch Company. He adds, "About the only sensor it does not have is the Polar CS WIND cadence sensor for cycling".
For cyclists, triathletes, runners, swimmers, Nordic skiers and other outdoor sports enthusiasts that cross train this is the ultimate Polar heart rate monitor bundle at a $250 discount.
"There are only a few of these Polar RCX5 limited edition Tour de France Premium bundles left world wide and when they are gone, that is it because Polar is not producing anymore of them", says Squire, adding "My guess is that two weeks before Christmas they will all be gone, so the time to act is now."
Polar will also have the new Polar RC3 integrated GPS watch available this Christmas. "The new Polar RC3 also makes a great running and cycling watch for those preferring integrated GPS", says Squire.
The Heart Rate Watch Company has consistently maintained the lowest prices on Polar products anywhere on the web and they are an authorized Polar dealer.
The Heart Rate Watch Company is also giving away two free fitness books, a $50 value, to all new customers. The books are called "How To Successfully Use A heart Rate Monitor" and "How To Elevate Fitness With Strength and Interval Training".