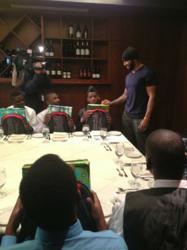 I couldn't think of a more deserving group of guys to invite to this mentoring lunch. They know the importance of determination and commitment.
(PRWEB) November 14, 2012
Matt Forte, All Pro running back for the Chicago Bears treated Tilden Career Community Academy's football team to a special mentoring lunch at Park Grill Chicago on November 13, 2012. His mission was to encourage and motivate the Blue Devils' squad, which consists of just 16 players and has only won one game in the past four seasons.
The experience started with luxury roundtrip transportation provided by Elite Chicago Limos from Tilden High School to Park Grill. Upon arrival Matt welcomed the group in Park Grill's private dining room. Executive Chef Wally and his staff at the award-winning restaurant teamed up with Matt to give the group a gourmet culinary experience. One of the lucky students won a Thanksgiving feast for 8 courtesy of Park Grill after Matt drew the winning ticket out of a hat.
Over a three course meal Matt discussed goal setting, discipline and perseverance as being important keys to their future success. He encouraged each player to set two goals, followed by the group suggesting strategies that would help each teammate reach their goals.
While the players were more than content to share this quality time with the star running back, they were stunned when Matt presented them with laptops courtesy of Lenovo. Each student athlete received a backpack that contained Lenovo's IdeaPad U410 Ultrabook, a slim laptop designed with performance in mind that's ideal for students in high school and college. Matt emphasized that as important as it is to have good strategies, having access to the right tools is just as critical to achieving success. Finally, he urged the teens to always make learning a priority and pursue higher education.
"It goes without saying that Tilden's team of 16 has faced some challenging odds that would've made many people throw in the towel" said Forte. "But they've continued to persevere, day after day, season after season. I couldn't think of a more deserving group of guys to invite to this mentoring lunch. They know the importance of determination and commitment; I really wanted to reward them for what they've been doing and motivate them. When you do the right thing, even if you don't think anyone notices, it'll all pay off in the end!"