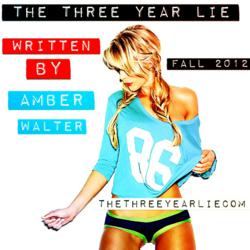 The Three Year Lie is a controversial, tragicomic book filtered through a complex psychological prism. Will outshock the 50 Shades of Grey crowd, which will deeply disturb most consciences. - Kirkus Review
Hollywood, California (PRWEB) November 14, 2012
"I am unable to disclose the true identity of the Senator in question because of the lack of evidence I have in possession to prove my side of the story." was Amber Walter's response to the question I asked in a recent sit down I had with her.
Amber Walter's debut novel, The Three Year Lie, has been out only two short months, and is already been raising eyebrows and gaining attention from media stations in Phoenix, Los Angeles, and Dallas Fox 10 News being one.
Walter, who has cleverly labeled The Three Year Lie as a "fictional tell all sprinkled with abounding moments of raw non-fiction" has been hounded with several questions, the identity of one of the main characters in her book, Arizona State Senator, Damien Preston, being the most want to know question.
Within the pages of The Three Year Lie, Amber Walter tells the haunting story of how a young girl's innocence was taken from her by a man twenty-five years her senior, with whom she thought she was in love. The reader is exposed to the harrowing reality of the consequences she was dealt and her parents' betrayal due to the Senator's efforts to hide his misgivings.
Walter states "My novel as I have told other interviewers and is clearly stated on the back cover, is a fictional tell all, labeled as so to legally protect myself. My novel, is roughly 90% autobiographical combined with fictional elements due to several different factors. One, simply because it is nearly impossible for me to remember exact conversations that occurred yesterday-let alone nine years ago."
Point taken.
The Three Year Lie is currently available online at http://www.amazon.com, http://www.barnesandnoble.com, http://www.thethreeyearlie.com, and in select bookstores. The second edition which will be donning a brand new cover hits shelfs this December.
Recent Interview with Amber Walter author of controversial new novel, The Three Year Lie.
Interview by Seattle Journalist Steven S. Owens