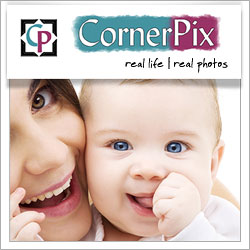 Turn your images into archival prints and photo products, just like the pros!
Simpsonville, SC (PRWEB) November 15, 2012
CornerPix makes it possible for anyone to create professional prints and photo products from their digital photos, just like the pros. Learn more at http://www.cornerpix.com.
CornerPix is a privately owned company with a focus on customer service, quality products, and rapid turn around time. They also offer some nice perks such as a free upgrade to Metallic photo paper and free shipping on every order.
Dina DeVincentis, the company's founder, has over 15 years of experience catering to professional photographers and their needs. She has teamed up with a premier professional photo lab, drawing even further on their vast experience to provide professional products with a personal touch. "Our professional photographers have always been excited about our products and quality" says Dina, "and now this outstanding service is open to all to express their creativity with their digital images." From holiday photo cards and canvas prints to photo books and growth charts there are hundreds of photo products to choose from. "One of the many things that sets us apart from other companies offering similar products is that our images are printed on archival quality Kodak Endura photo paper. Our images will last a lifetime" reports Dina.
The photo software used by CornerPix allows the consumer to drag their image and simply drop it onto a product, then personalize it and tweak it to their taste using tools designed to edit, crop, or add text. It also provides an excellent opportunity to create personalized gifts for friends and family. With the current state of the economy, Dina believes it is more important than ever to appreciate the little things in life and focus on creating and preserving memories. Printing pictures is a great way to do that.
In celebration of this grand opening, CornerPix is presenting a limited time special offer. Visit their website and see what creative things can be done with a digital image and a little imagination.
About CornerPix
CornerPix, an online photo lab, provides both consumers and professional photographers alike a place to turn their digital images into archival prints and photo products.
CornerPix offers Free Shipping on every order.