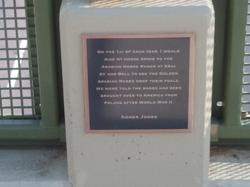 Glendale, Arizona (PRWEB) November 15, 2012
Metal thieves now have a brand new foe, thanks to the creations of CeraMetallics. CeraMetallics is an Arizona-based company that makes plaques, memorial placards and other items that resemble costly metal but are actually constructed from ceramic. Cost-effective, durable and attractive enough to acquire the City of Phoenix as its first client, CeraMetallics plaques are already gracing the city's Grovers Pedestrian Bridge and are available at the company's new website at http://www.CeraMetallics.com.
CeraMetallic plaques average less than one-quarter the cost of their metal counterparts. They resist rust, discoloration, fading and graffiti. Markers and paint wipe off rapidly while the metallic finish remains intact. Faux metal lets the average business or homeowner add a layer of elegance and timelessness without an insurmountable layer of expenditure to their budgets.
The idea for the product and company was born in response to the high rate of metal theft running rampant in Arizona, the nation and all of North America. Bronze, copper and any other metal that can be removed from public and even public structures have become prime targets. When the City of Phoenix did not have the funds to replace the 22 bronze plaques stolen from the Grovers Bridge, CeraMetallics stepped in with the affordable faux metallic alternative.
While CeraMetallics is fresh on the scene, its parent company Digital Ceramic Technologies, or DCT, is one of the World's leading producers and distributors of ceramic toners and Digital Ceramic printing systems. The high-tech, specialized process DCT uses to create custom ceramic tile, porcelain memorial photos and other ceramic products was adjusted to create faux metal from ceramic, opening a new avenue of possibilities.
The technology used to create faux metal comes from an advanced digital printing system that uses ceramic toners to produce durable decals that are kiln-fired directly and permanently to a porcelain base. Each piece can be fully customized to include logos, full-color photos, artwork, font, or any combination of details desired. DCT stands apart from its competition by employing and selling what has been considered the world's most advanced ceramics system. The company offers classes, training, one-on-one assistance as well as the supplies necessary for businesses to obtain and use the digital printing system themselves.
The faux metallic ceramic products are the most recent advancement for the company, which has a track record of success with its versatile and cost-effective ceramic decoration method. Products have ranged from tableware and mugs to large-scale public art projects and signage for national restaurant chains.
To learn more or schedule an interview, please contact Joel Manly at 602-416-1036 or email joel@dctprinters.com.