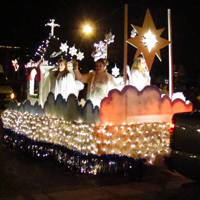 This year's Christmas Parade is packed with fun events for the entire family, said Sherri Skeeters, tourism coordinator for the City of Athens Department of Tourism.
(PRWEB) November 16, 2012
Bring the entire family to visit Athens, Texas on December 1st for the annual lighted Christmas Parade, Christmas Around the Square.
The lighted Christmas Parade will kick off at 6:30 p.m. in downtown Athens. This year, the parade will feature a live remote with prizes and tickets given away by KCKL 95.9.
The parade route will begin at Trinity Valley Community College and continue to W. Ben Belt Drive, turn north on S. Palestine Street toward the downtown square, turn west onto W. Tyler Street and south onto S. Prairieville Street, and will end at Trinity Valley Community College.
Parade participants will include local businesses, churches, civic/nonprofit groups, school groups and marching bands. Parade entries are encouraged to decorate their float with the Christmas theme and will be judged on creativity and appearance.
Parade winners will be announced downtown at Ginger's Park 30 minutes after the parade and the Grand Prize winner will receive $500, sponsored by Republic Services.
The fun doesn't end yet, stick around for the After Parade Party, sponsored by local churches for food, games, and a petting zoo that will take place around the square in downtown Athens.
The Athens Central Business Association is sponsoring a free Movie in Ginger's Park that will begin at 8:30 p.m.
Come early for Holiday on the Square, sponsored by the Light Up Athens committee, that will take place downtown on the Courthouse Square from 4 p.m.-6:30 p.m. and will feature a Holiday Market, story time, arts and crafts for children, visits with Santa, and the lighting of the Christmas Tree.
Join us on December 1st in downtown Athens for Christmas Around the Square.
For more information about Athens including accommodations and other upcoming events, please visit us online at http://www.AthensTX.org or call us at 888-294-2847 to request a free visitor's guide.