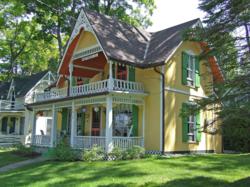 "The field of entries in this year's competition was truly exceptional, and selecting just a dozen winners was daunting."
Petoskey, MI (PRWEB) November 16, 2012
The Bay View community in northern Michigan, near Petoskey, has been named one of the 12 "Prettiest Painted Places in America" by the Paint Quality Institute.
Bay View is a community of more than 400 cottages on Lake Michigan's Little Traverse Bay. The community's charming Victorian architecture has earned it recognition as a National Historic Landmark.
Before naming the winners, The Paint Quality Institute conducted a rigorous four-month search that included thousands of contacts with state tourism departments, convention and visitor's bureaus, chambers of commerce and Main Street groups.
48 states and the District of Columbia submitted color images of beautifully painted homes, buildings and exterior murals. A panel of judges with expertise in paint and exterior color schemes reviewed the entries and named the winners.
According to the Institute's Debbie Zimmer, "The field of entries in this year's competition was truly exceptional, and selecting just a dozen winners and only nine exceptional merit communities was daunting."
For more information on Bay View and the Petoskey Area, visit http://www.PetoskeyArea.com.
###