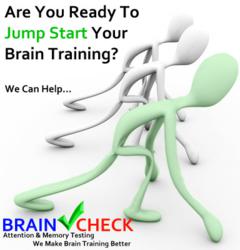 Just like your physical training, mental training takes persistent effort. The good news is, its not as hard to do as you may think.
Savannah, GA (PRWEB) November 29, 2012
Targeted Testing Inc's founder, Dr. Thomas K. Pedigo has developed a new online cognitive testing service called Brain Check Testing, available at http://www.brainchecktest.com for validating online brain training. The key to success with this type of online brain training is in External Testing to target your specific strengths and weakness so you can make the most effective use of your training time. Most importantly, external testing can be used to compare any or all of the available training methods to your specific needs. Not everyone needs help in exactly the same areas, and this is why there is no "magic pill" or one-size-fits all approach. The Brain Check Test website offers external testing programs available online to help establish your beginning baseline scores, identify areas that may need more work, and to track progress over time. Most of the popular brain training systems have some feedback or testing built in, but to prove your real world gains outside of those specific training tasks, reliable external testing is required.
It is no accident that a multi-million dollar industry has grown up around online Cognitive Therapy, commonly referred to as "brain training". Also no surprise is the diverse nature of actual results vs. the claims made by proponents of these different training programs. Recent marketing efforts made by a few online training systems have done little to change the erroneous impression of a "one size fits all" approach in cognitive training and this is likely the main cause of the confusion and early disagreement over the effectiveness of these programs. This is unfortunate because there are many high quality, science based brain fitness programs available online with costs ranging from expensive to quite reasonable from providers like Cog-Med, Posit Science, and Mindsparke to name a few. Many Brain Training Games are designed to be fun, non-stressful, and approached casually. However, our professional and educational settings place greater demands on us than one gets from entertainment. Finally, training requires life long effort, just like physical training and dietary improvements. If one stops the healthy behavior, they will soon revert back to the old self. Proper Cognitive Conditioning can create gains and Cognitive Testing will help define your skills and abilities when compared to a highly standardized national sample.
There are an increasing number of scientific studies on "neuro-plasticity" that show the positive benefits of proper mental exercise on brains of all ages, just as we now know that physical exercise and good nutrition can enhance our mental fitness. Also important is the amount of effort we put into the training, just like physical training, mental gains come from sticking to a proven workout regimen, this is even more important for those of us who train ourselves. In the past folks would need to seek professional help from psychologists, counselors, personal coaches, etc.. and this method creates a little more motivation to stick with the program, with a corresponding investment of time and money.
Fortunately, there are now several science-based brain fitness programs available online for consumers that target specific cognitive skills. From students wanting to improve grades, Executives looking for increases in processing speed and decision making skills, to seniors wishing to compensate for age related cognitive declines, there are online programs aimed at increasing IQ, Visual - Spatial functioning, Sequential functioning, Working Memory and Processing Speed. And with Brain Check Testing, choosing which ones work best for you should be no problem.
More information on brain fitness and testing can be found at http://www.attention-memorytesting.com