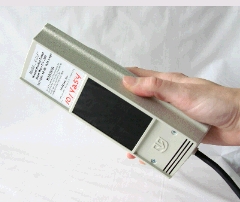 an ounce of prevention can be worth thousands of dollars
Wake Forest, N.C. (PRWEB) November 27, 2012
MedFaxx, Inc offers the one proven, FDA approved, ultraviolet lamp that has been proven to destroy all known skin pathogens, including germs found in chronic wounds.
A problem with many infectious diseases is the germs are at skin level and by resting there the potential is high to infect one self. This is especially true for patients suffering from decubitus ulcers/bedsores. The infection in the wound compromises healing of the wound. The V-254 can be used to destroy the wound bed bacteria is less than 90 seconds, but if the skin is not treated then any germs on the skin migrate to the wound. The migration of germs reinfects the wound bed.
Germs on a body can also be transferred to new, non infected patients by clinicians in hospitals inadvertently. A simple exposure to UVC light will destroy all known pathogens and help prevent becoming sicker in the hospital setting, rather than getting well.
Today an ounce of prevention can be worth thousands of dollars in treatments for infectious disease.
For more information contact:
Bob Johnson
MedFaxx, Inc.
Wake Forest, N.C. U.S.A.
800-937-3993