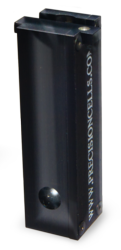 Farmingdale, NY (PRWEB) November 16, 2012
Scientists requested it so NSG listened. Faster easier DNA quantification that requires less time and less user training. NSG is proud to introduce the Micro Focus Cell as the top tool that researchers absolutely need for accurate results for any DNA measurement experiments.
Micro Focus Cell Supports All Z-Dimensions
The Micro Focus Cell supports all Z-Dimensions including 8.5 mm, 15 mm, and 20 mm. Instead of researchers needing to purchase various sizes for certain DNA quantification experiments, scientists need to only purchase one cell. Using just one cell drastically lowers costs and makes it easy for researchers to attain precise measurements.
No matter what spectrophotometer a laboratory has, NSG guarantees that the Z-Dimension will have perfect alignment each time. This provides researchers with piece of mind and repeatability for DNA quantification experiments.
NSG Micro Focus Cell for Stress-free DNA Quantification
The Micro Focus Cell can be used in any UV-VIS spectrophotometer saving researchers the cost of investing in new expensive devices. Likewise, the Micro Focus Cell fits into any standard 10 mm spectrophotometer cuvette holder.
Additionally, NSG has made DNA quantification even simpler, no longer do scientists have to worry about alignment issues. Instead of complex optics that can cause alignment problems the Micro Focus Cell utilizes an exclusive design that saves time and priceless data. The patented design uses the perfect uniformity of light that passes through the entire sample. This innovative design gives researcher's guaranteed performance for DNA quantification. Furthermore, NSG offers an unmatched wavelength range of 190 nm to 2,000 nm.
Another outstanding feature for DNA quantification is the stress-free sample holder. The Micro Focus Cell has an easy to remove sample holder that significantly reduces the likelihood of spills. As well, researchers no longer have to bother with caps or assembly. Scientists can now focus on DNA quantification instead of spending time screwing and unscrewing caps or reassembling.
NSG Micro Focus Cell Saves Time and Money
The Micro Focus Cell is most advanced tool for DNA quantification. It is designed to accurately run numerous samples quickly and accurately. This is extremely important for DNA quantification were time is such a valuable asset. With fast and convenient access to the micro-sample chamber a researcher can easily load then clean the sample and move on to the next DNA quantification. The exceptional reproducibility is assured by design and will save laboratories a great deal of time and money.
Most important, the Micro Focus Cell allows researchers the ability to use an ultra-small sample size of 1.9 microliters, which requires only a minuscule drop of sample. Not only is it cost effective with smaller sample sizes but there is no dilution required. Scientists no longer need to worry about inaccurate DNA quantification results caused by diluted samples. Moreover, NSG also offers custom sample sizes below <1 microliter giving researchers the flexibility to use an even smaller sample size.
Micro Focus Cell Versatility
The Micro Focus Cell is the ideal replacement ultra-micro cell for a variety of devices such as the BioRad SmartSpec Plus Spectrophotometer, Implen NanoPhotometer, Eppendorf Biophotometer Plus and the Perkin Elmer Lambda Bio. These spectrophotometers are built specifically for DNA quantification so the Micro Focus Cell is the perfect cuvette for these machines.
What's more, the Micro Focus Cell can be used for not only DNA measurement and DNA Quantification but for Protein Concentration Nucleic Acid Analysis and RNA Measurement. The Micro Focus Cell is perfect for all applications where small sample size, over-the-top accuracy, repeat analyses, and ease of use are of extreme importance.
Customer Excellence
To eliminate the stress of ordering, NSG has on demand shipping to qualified customers. In addition, NSG works with OEM establishments as well as small businesses. The NSG caters to all customers and feels that no job is too big or small and they are equipped to make all project sizes from 1 piece to thousands of pieces.
NSG Precision Cells is recognized as a world leader in silica products. They hold the ideal laboratory solution for increasing demands of quality products and cost-effective results. With advanced technology and specialized custom designs, NSG guarantees incomparable micro flow cell quality that meets the needs of today's laboratories.