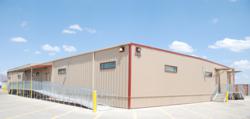 ELPASO,TX (PRWEB) November 15, 2012
Icon Construction is pleased to announce the successful completion of a 8,190 sq. ft. administrative office space at Fort Bliss in El Paso, TX. Icon provided a full turn-key, design/build project through the US Army Corps of Engineers. This administrative office space is now in use by officials from the United States Bureau of Customs & Border Protection. It includes a fire sprinkler system, fire alarm and mass notification. Icon Construction's scope of work on this project included all site and building communications, Site and building water, sewer and electric, sidewalks, gutters, awnings, steps, decks and ramps. The Icon successfully completed the job in approximately three months.
The United States Bureau of Customs and Border Protection is the largest law enforcement agency in the United States. It's primary mission is to prevent terrorists and terrorist weapons from entering the United States. CBP is also responsible for apprehending individuals attempting to enter the U.S. illegally and to help regulate and facilitate international trade. The CBP has more than 58,000 employees including more than 45,000 sworn federal agents.
Icon Construction is proud to be the only SBA 8(a), HUBZone, Veteran and Native American owned manufacturer of modular structures in the U.S. We at Icon strive to build the highest quality modular buildings in the industry, provide our customers the highest quality service, and deliver a product that is superior to all of our competitors. We know that the competition is doing a good job, and as a result we need to exceed our customer's expectations; we believe we accomplish this goal every day.