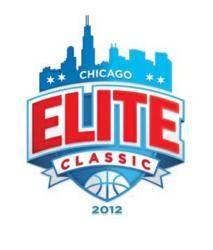 CHICAGO (PRWEB) November 15, 2012
The inaugural Chicago Elite Classic, a six-game high school basketball event, is slated for Saturday, Dec. 1, at University of Illinois-Chicago Pavilion. Two of the city's most prolific high school basketball programs – Simeon and Whitney Young High School – have teamed up with the City of Chicago to host a showcase of the best basketball programs in the metropolitan Chicago area vs. top teams from California, Georgia, Maryland, Ohio and Utah. General Admission tickets are $17.50 and are available at Ticketmaster (click for direct link), at UIC Pavilion Box Office and at all Villa locations. For Session One, floor seats are available for $55; floor seats are not available for Session Two.
Chicago Elite Classic Schedule
Session One:
9 a.m. - Phillips vs. DeLaSalle (Ill.)
11 a.m. - Normal U-High vs. St. Vincent's-St. Mary's (Ohio)
12:45 p.m. - St. Joseph's vs. Mater Dei (Calif.)
2:30 p.m. - Proviso East vs. Lone Peak (Utah)
Session Two:
6:30 p.m. - Whitney Young vs. DeMatha (Md.)
8 p.m. - Simeon vs. Milton (Ga.)
"From Isaiah Thomas to Derrick Rose, when student athletes from around the country think of great high school basketball, they think of Chicago," said Mayor Rahm Emanuel. "The Inaugural Chicago Elite Classic will show the commitment to High School basketball that unites our City and showcase the community and competitive spirit that makes Chicago's student-athletes so successful."
"We are thrilled to team up with Whitney Young and host some of the best teams in the country," Simeon head coach Rob Smith said. "Chicago is undoubtedly a hotbed for the best basketball talent in the nation. Our goal is for the Chicago Elite Classic to provide our guests top-tier competition on the court and an entertaining experience off the court in our great city. Additionally, fans will be treated to intense and electrifying competition from the best teams in the land."
"We are so thankful to our partner Simeon and especially to Mayor Rahm Emanuel and the City of Chicago for their support of the Chicago Elite Classic," Whitney Young head coach Tyrone Slaughter said. "The community has rallied around our effort and it speaks volumes about the passion for high school basketball in the city. Combining the talent that Chicago produces year-in and year-out with the best of the best from across the country is sure to produce an entertaining basketball event for fans of all ages."
To kick off the Chicago Elite Classic, Common will perform a benefit concert at 8:30 p.m. Friday, Nov. 30, at The Venue at The Horseshoe Casino in Hammond, Ind. A portion of the proceeds will benefit the Chicago Elite Classic. Tickets can be purchased via Ticketmaster (click for direct link).
The Chicago Elite Classic is supported by ABLE, Ameresco, Ariel Investments, ARAMARK, AT&T, Attucks Asset Management, Awakened Alternatives, BMO Harris, BLC, Caesar's Group, Central City Productions, Inc., Channing Capital, Chicago Center For Sports Medicine and Orthopedic Surgery, Chicago Public Schools, Chicago Steel, Chicago Transit Authority, City of Chicago, ComEd, Common Ground Foundation, D.C. Madhatter, Eastlake Management, Fact Finders, Fed Ex, FMC Energy, Hard Rock Hotel, Haywood and Fleming Associates, Intersport, Loop Capital, McKissack & McKissack, Mesirow Financial, Miracle Outdoor Advertising, Mitchell & Titus, Nike, Norm Van Lier Scholarship Fund, Power & Sons, Rizza Cars, SCR Medical Transportation, The Will Group, True Star Magazine, United Airlines, Villa and World Sport Chicago.
For more information, please log on to http://www.ChicagoEliteClassic.com, follow us on Twitter (@ChiEliteClassic) or find us on Facebook (http://www.facebook.com/ChicagoEliteClassic).
###