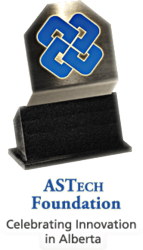 "The calibre of the Hatsize cloud-based training product and what they have achieved in terms of global reach is on par with companies located in Silicon Valley," said Brent Allison, VP TELUS and ASTech Board Chair.
Calgary, Alberta (PRWEB) November 20, 2012
Hatsize, the leading cloud automation software provider for hands-on training and demos, is pleased to announce it has been recognized by Alberta Science & Technology Leadership Foundation (ASTech) as the winner of the 2012 Innovation in Information and Communications Technology (ICT) award sponsored by TELUS.
ASTech was created 23 years ago to celebrate and promote the achievements of Alberta's scientific and technological communities. To date, they have recognized 264 leaders--individuals and organizations operating world-class technologies on a local and global scale. In doing so, they elevate the province's status as a science and technology leader and inspire future innovation in Alberta and around the world. ASTech believes that by showcasing the outstanding innovation coming from Alberta, others are stimulated to excel and achieve even greater outcomes. This year, ASTech recognized 12 award winners - the brightest minds and most innovative enterprises practicing and operating in the province today.
The Innovation in ICT award is presented to an individual, team, or organization that has demonstrated leadership and innovation resulting in the successful development and/or commercialization of a novel product or application of Information, Communications Technology, and that has had a significant impact in enabling applications in a sector.
Hatsize was recognized for the development and commercialization of the Hatsize product – one of the first cloud automated training software solutions in the industry and their innovative use of the cloud for delivering virtual, hands-on training globally. The company was also recognized for their impact in Alberta's science and technology community by developing a world-class software solution, which has been used by Fortune 2000 corporations, training centers, academic institutions, associations and certification organizations to deliver over two million hours of training sessions in North America, Europe and Asia.
"We are honored to be recognized by ASTech," said Guy Hummel, CEO, Hatsize. "At Hatsize, we strive to make the world a better place by making technology education more effective and enjoyable. We also strive to contribute to the Alberta community by building a home-grown yet industry-leading development team and by helping to diversify Alberta's economy in the high tech sector, one of the top three growth industries in Calgary."
"It is fortunate to have a company like Hatsize in Calgary," said Brent Allison, Vice President of TELUS Partner Solutions and ASTech Board Chair. "The calibre of the Hatsize cloud-based training product and what they have achieved in terms of global reach is on par with companies located in Silicon Valley. Hatsize's commitment to continuous, customer-oriented technology innovation, and their recognition of the value that Alberta can bring to the global landscape, makes Hatsize a worthy recipient of the outstanding contribution to Alberta's Science & Technology community."
Supporting Resources
Hatsize 2012 ASTech ICT Award Highlights
Complete List of All 2012 ASTech Award Winners
About Hatsize
Hatsize is a leading cloud automation software company that has provided over 2 million hours of cloud-based training and demo sessions for the world's most successful technology companies, including IBM, Juniper and Symantec.