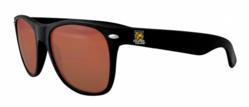 (PRWEB) November 15, 2012
Maxx HD® Sunglasses, the leader in affordable high definition sunglasses announced today the release of their Colorado College® eye wear collection. These CC® insignia high definition sunglasses allow Maxx customers to express their school spirit and share in the excitement and tradition of the Colorado College® Tigers, while protecting their eyes.
The CC® collegiate sunglasses are proudly offered in the MAXX HD® Dynasty and Retro models. The entire line of Colorado College® sunglasses are highlighted with the school's logo on the arm and are offered in the schools vibrant black and gold and white colors.
"We are extremely excited to release our Colorado College® insignia sunglasses, we are both local to Colorado Springs, so the Tigers are one of our favorite teams," stated Maxx HD® Public Relations Director Chana Kolman.
To learn more about MAXX HD® Sunglasses or their line of collegiate sunglasses, visit their website at http://www.maxxsunglasses.com