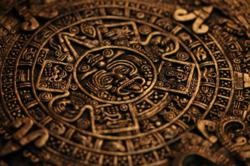 This poll was taken from 16,262 adults in 21 countries.
Asheville, NC (PRWEB) November 14, 2012
According to a poll by Ipsos, a global research company, approximately one in seven believe the world will come to an end during their lifetime. One in ten believes that the Mayan Prediction marks the end of the world while another one in ten acknowledges they have had fear and anxiety issues due to the impending December 21, 2012 doomsday prediction. This poll was taken from 16,262 adults in 21 countries. Of the countries polled, China had the largest number of Mayan doomsday prediction believers at 20% of those polled while the lowest percentage was from Germany and Indonesia at 4%. The USA believers were right in the middle at 12%. At the Asheville Jung Center a discussion about the prediction of the Maya and all the surrounding issues is in our upcoming web seminar. The Asheville Jung Center was founded in 2008 to advance the psychology of Carl Jung and promote an international Jungian community. It is affiliated with innerQuest Psychiatry and Counseling, a regional psychiatrist group.
People are looking for clues that can help decipher the meaning and implications of the Mayan prophecies. The impression that the world may come to some cataclysmic end is deeply etched into the human psyche and appears as a recurring motif. The Asheville Jung Center is at the leading edge of exploring the significance of the Mayan Prophecy. "There is an aspect of the primitive part of our brain that fears the abyss; this finds expression in sacred literature and in various myths and rituals of ancient cultures, and the failure to acknowledge this notion of annihilation may result in acting out these themes in aberrant ways." says Dr. Steven Buser, co-founder of the Asheville Jung Center. Dr. Len Cruz, also of the Asheville Jung Center, offered several examples of aberrant patterns evident in current events "…the denial of the evidence concerning environmental degradation, the paralysis in dealing with the impending fiscal crisis in the US and elsewhere, and the psychic numbing as described by the psychiatrist, Robert J. Lifton in association with the threat of nuclear destruction that was initially identified in survivors of Hiroshima."
The Asheville Jung Center will host a worldwide conference "The End of the World" on November 29, 2012 (viewable on the WEB) that brings together Jungian psychoanalysts from Zurich, the Netherlands, and Los Angeles including Nancy Furlotti, MA who has extensively studied the Mayan Calendar will be among the presenters.
The poll numbers used in this article were found at the Ipsos website.