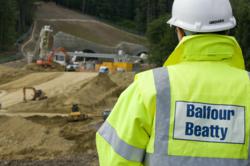 (PRWEB UK) 15 November 2012
The move is, in part, driven by the strong safety culture inherent to Balfour Beatty. Its 'Zero Harm' ethos, established by Balfour Beatty Group, adopted by Balfour Beatty Divisions across the globe, sets the highest health and safety standards. It means zero fatalities, zero permanently disabling injuries and an aim of zero accidents and injuries across all operating companies. BBFS operates close to 8,000 vehicles in the UK so required a telematics partner that could deliver best value, best fit and the best technical solution to the vast array of vehicles supplied across the Balfour Beatty Group.
The agreement, which is to be managed under a central framework agreement, will ensure each Balfour Beatty operating company can adapt vehicle telematics for its specific purpose; demanding that Masternaut delivers the right mobile workforce management system with the potential to provide ROI in a number of different areas. To support the Group's Zero Harm commitment targets, the Masternaut technology was required to aid the elimination of fatal risks, hazards and keep the public safe from harm.
To meet these stated needs, Masternaut provided Balfour Beatty with the full product portfolio beyond vehicle tracking. This included:

Driver Behaviour Products - designed to match both the Group's Zero Harm safety ethos and Sustainability Roadmap, to manage driver performance, reduce fuel costs and improve driver safety
Asset Tracking - for deployment as temporary tracking devices for plant and machinery including specific hardware configured for plant security
Traditional Telematics - deployed for operational control and to provide Balfour Beatty with a telematics-enabled tool-kit to manage productivity
Project Management & Consultancy - as the Group has such diverse requirements, differing significantly from business to business, Masternaut consultants worked alongside Balfour Beatty representatives to ensure that the right products were deployed to the operating businesses.
The Masternaut Driver Behaviour Products include essential Duty of Care and Fuel Management functionality. Realised through better driving behaviour, the technology has proved to be a powerful fleet management tool that helps lower carbon footprint, reduce costs and realise safety obligations. It works using real-time data with the Masternaut vehicle tracking solution.
As Head of Driver Risk Management, Robert Lindsay has a vested interest in positive driver behavioural change and will build on the benefits of telematics with driver performance management training and education to reduce their total fleet operating cost. "Masternaut's technology can help us identify those drivers who could benefit from some development or coaching and, similarly, assist us in recognising and rewarding those that are performing well."
He adds: "The Masternaut product offers the 'full package' as well as having the infrastructure and drive in place to join us on our journey towards 'Zero Harm'. The support network and the project management team that we have been working with have been fantastic and we look forward to a long and successful partnership."
Images to accompany the news:
Balfour Beatty images
Masternaut logo
About Masternaut
Masternaut designs and delivers innovative solutions for managing the mobile workforce that enable customers and partners to achieve evolutionary step-changes in their performance and service delivery. Formed through the combination of established telematics providers, Cybit and Masternaut, the new Masternaut boasts the broadest range of telematics products, services and R&D capability in Europe.
The companies represented some of the fastest-growing private technology firms in Europe and were ranked 13th in the Sunday Times International Fast Track, having achieved more than 150% growth in sales during 2007-2010; whilst Masternaut was also featured in the 2007, 2008 and 2009 Sunday Times Tech Track 100, and was also recognised on the Deloitte Fast 500 EMEA in 2009.
Masternaut has more than 550 employees and 10,000 customers across Europe and has been recognised by Berg Insight as Europe's largest telematics provider.
About Balfour Beatty Fleet Services
Balfour Beatty is a world-class infrastructure group with capabilities in professional services, construction services, support services and infrastructure investments.
A dedicated team in the Balfour Beatty Support Services Division, Balfour Beatty Fleet Services (BBFS) operate the ninth largest fleet in the UK - supplying and managing over 10,000 cars, LCVs, LGVs and specialist commercial vehicles to deliver whole life fleet management and contract hire solutions for our customers.
BBFS makes it a priority to ensure the vehicles customers are running are done so as safely and sustainably as possible. From specifying bespoke vehicles to purchasing vehicles and organising contract hire and fleet lease agreements, they work in partnership with each customer to understand their exact business needs. That way services are tailored to make sure the right solutions and the best possible value in terms of whole life cost is achieved.