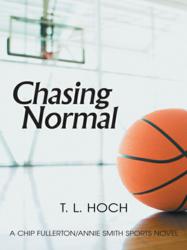 This is a story for all those who believe in building character as well as talent.
CLINTON, Iowa (PRWEB) November 15, 2012
John Wooden once said that sports don't build character – they reveal it. This view, and how it applies to young people today, is embraced wholeheartedly in Chasing Normal, the new book by T.L. Hoch.
Hoch weaves a story that's as much about life as it is about athletics, portraying the dreams, fears, and challenges every high school student faces on their journey to adulthood. Teens will instantly relate to characters such as Annie Smith, the sports star flying under the radar as she tries to be "normal", and Melinda "Chip" Fullerton, the gifted athlete who wishes she were just a little taller and her team a little better.
"I wrote Chasing Normal because I've seen firsthand some of the problems kids have today, from lack of character to bad behavior in competition", says Hoch, who spent years as a high school teacher, girls' basketball head coach and football coach. "My hope is that young people will not only enjoy the story, but through it learn how to compete with class, to become better athletes, and to accept responsibility for their actions."
Chasing Normal is the perfect story for parents, coaches, teachers, and especially teens, as they face the challenges of building character as well as talent on the way to embracing the true person inside.
For more information, visit bookstore.iuniverse.com.
Chasing Normal
By T.L. Hoch
ISBN: 978-1-4697-5148-1
Softcover, retail price: $17.95
Hardcover, retail price: $27.95
E-book price: $3.99
About the author
T. L. Hoch has been a golf professional, a small business owner, and has worked for a Fortune 500 company. He is currently a retired high school social science teacher and coach. Tom lives with his wife of thirty-six years in northwest Illinois, where he is working on the next book in the series.
# # #