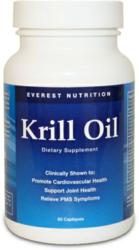 Wilmington, DE (PRWEB) November 15, 2012
Everest Nutrition, a leader in developing and providing superior quality vitamins and nutraceuticals, is pleased to announce a holiday giveaway of Everest Nutrition Krill Oil. For consumers interested in boosting overall health and well-being – the holidays are the perfect time to take advantage of a giveaway that could provide optimal health benefits within weeks.
For a limited time, industry professionals can contact: sandra.goldstein(at)krilloil(dot)com for a free one month supply in order to experience the incredible effect Everest Nutrition Krill Oil has on personal health and well-being. A free, seven day trial is also being offered through our website at http://www.krilloil.com to consumers interested in exploring a healthy lifestyle addition.
As news of the incredible effects of omega-3s has spread, supplements have become a staple for Americans looking to take positive steps towards improving their quality of life. Unfortunately, when it comes to omega-3 supplements, many consumers turn to run-of-the-mill fish oils to achieve their daily intake of these essential fatty acids. However, research has proven krill oil to be a stronger option. Everest Nutrition Krill Oil not only provides more omega-3s per serving, but it also contains 54X more antioxidant power than leading fish oil brands.
Krill oil has received a lot of attention within the medical and homeopathic communities due to its numerous health benefits in promoting; cardiovascular health, brain and memory function, a reduction in joint inflammation, anti-aging benefits and relief while experiencing premenstrual symptoms.
Dr. Keith Scott-Mumby, a renowned researcher in alternative and holistic medicine states:
"When an important medical discovery comes along that empowers my patients to take more control of their personal health, it's my duty to bring them the news right away."
"I'm talking about a scientific breakthrough in the industry. There is an incredibly powerful antioxidant found in Krill Oil known as Astaxanthin. Astaxanthin is known to be the strongest antioxidant in the caretonoid family, easily battling away free radicals as they try to attack cellular health. In fact, astaxanthin is one of the few nutrients that has the rare ability to cross the blood-brain barrier and deliver essential nutrients throughout the body. Everest Nutrition Krill Oil has an ORAC value of 431 which means it has 54X more antioxidant power than leading fish oil brands."
Everest Nutrition is thrilled to launch our holiday giveaway of Everest Nutrition Krill Oil, a superior supplement within the omega-3 industry. Everest Nutrition is pleased to be able to provide a seven day, free trial to the consumer through KrillOil.com. This season, everyone can achieve a powerful impact on personal health and well-being for themselves. *
About us: Everest Nutrition is dedicated to promoting holistic health. By creating premium vitamin and nutraceutical supplements, we aim to improve quality of life.
For more information visit KrillOil.com. Contact Sandra Goldstein at Sandra.goldstein(at)krilloil(dot)com or 1-877-217-0458.
*This free trial is offered for a five business day period beginning November 15th, 2012