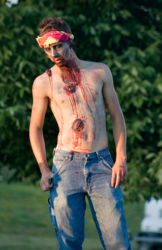 Humans VS Zombies is one of the most popular activities at PTI - Why? Nerf guns - it's that simple. John Palko
PITTSBURGH, PA (PRWEB) November 15, 2012
The mission is simple: avoid being tagged by a Zombie. Supplies are few: Nerf guns, head bands and index cards.
The game begins with all players as humans, and one is randomly selected to be the "Original Zombie." The Original Zombie tags human players and turns them into zombies. Zombies must tag and "eat" a human every 48 hours or they starve to death and are out of the game. Zombies win when all human players have been tagged and turned into zombies. Humans can win by surviving long enough for all of the zombies to starve.
Pittsburgh Technical Institute will become a Humans VS. Zombies battleground for three days beginning November 16 and ending November 18, 2012. It's their sixth HvZ tournament, and according to PTI's Intramural Sports Coordinator, John Palko, HvZ is one of the college's most popular activities. Palko attributes student response to the game to just one key element. "Nerf Guns," said Palko, not-so-jokingly. "It's really that simple."
"The game is something all students can participate in together…regardless of major, age, interests or physical ability," said Palko. Humans VS. Zombies tournaments at Pittsburgh Technical Institute typically attract around 125 student participants. And the numbers are growing.
HvZ was invented at Goucher College in 2005. Social networking has enabled the game to expand to more than 650 colleges and universities worldwide, as well as high schools, military bases, summer camps and public libraries.
"Students at PTI are career-driven and work very hard," said Palko. "Humans vs. Zombies is a way to balance things with some fun." Palko has been with PTI since 2010 and oversees a variety of intramural sports and activities including basketball, deck hockey, soccer, flag-football, faculty vs. student softball and tournament poker.
Link to PTI's Flickr account for photos of previous HvZ tournaments:
http://www.flickr.com/photos/ptiedu/sets/72157627272099481/with/6049898934/
Student Life at PTI: http://www.pti.edu/campus_life.php
ABOUT PITTSBURGH TECHNICAL INSTITUTE
Offering career-focused education since 1946, Pittsburgh Technical Institute is a two-year college with a 180-acre campus in North Fayette, west of Pittsburgh. PTI offers degree and certificate programs in areas such as Building Technology, Business, Criminal Justice, Culinary Arts, Design, Healthcare, Nursing, and Information Technology.
PTI students can take advantage of online course offerings, on-campus residence halls, student activities, intramural programs and community service programs. PTI is accredited by the Middle States Commission on Higher Education.
PTI was recognized by its employees as one of the region's Top Places to Work in a 2012 study commissioned by The Pittsburgh Post-Gazette.