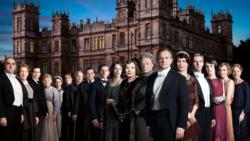 Miami, FL (PRWEB) November 16, 2012
WPBT2 will broadcast Downton Abbey Revisited on Sunday, November 25 at 8:00 p.m. The special, hosted by famed actress Angela Lansbury, includes a fond recollection of favorite moments from Seasons 1 and 2, plus interviews with the actors and creative staff and rare behind-the-scenes footage of the production.
Downton Abbey Revisited will also offer a sneak peek at what's in store for the characters in Season 3, as they enter the Roaring Twenties. Viewers will have the rare opportunity to pre-order the Downton Abbey Season 3 DVD set during the broadcast.
Created and written by Academy Award®-winning writer Julian Fellowes, Downton Abbey, the phenomenally popular Masterpiece series on PBS, depicts the lives of the noble Crawley family and the staff who serve them in their sumptuous Yorkshire estate.
Filled with romance, intrigue and wrenching social changes, Downton Abbey has been embraced by viewers and critics alike, making Season 2 the most-watched Masterpiece drama on record. Dame Maggie Smith was just honored with a Primetime Emmy® Award for her portrayal of Lady Violet, Dowager Countess of Grantham.
Downton Abbey is a Carnival/Masterpiece Co-production, in association with NBCUniversal.
About WPBT2
South Florida's premier public broadcaster, WPBT2, is a community-licensed, not-for-profit media enterprise serving communities from the Treasure Coast to the Florida Keys. WPBT2 provides high quality content from PBS, independent acquisitions and its own original productions. WPBT2's digital media platform, offers: 2HD, a 24-hour high definition channel; Digital 2.2, a mix of Science & Nature Channel, The Florida Channel and Create; Digital 2.3, V-me, a 24-hour national Spanish-language network; and http://www.wpbt2.org, the WPBT2 website including, Impromp2 (a community blog), the WPBT2 Video Player and uVu, a video sharing website.
###