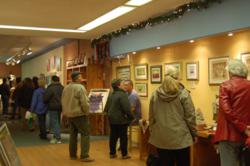 Farmington, N.M. (PRWEB) November 14, 2012
Farmington, the commercial hub of the Four Corners, has a retail trade area of a 170-mile radius in the surrounding states of Arizona, Utah and Colorado as well as New Mexico. The 27,425-square-mile Navajo Reservation sits at its doorstep.
Shoppers find what's on their wish list along Farmington's Main Street that winds more than six miles past local shops in the historic downtown, big box stores, (two Wal-Mart's, a Sam's Club and Target) and then the region's largest shopping mall which anchors at the eastern end.
The Animas Valley Mall has been popular from its opening more than 25 years ago. This Black Friday it will open for early rising shoppers, likely with lattes in hand, at 6 a.m. Along with Dillard's, Sears and JC Penny's, there are 60 specialty shops in the mall, including Aeropostale and Justice for the trendy, younger set. There is a 10-screen theater and a food court for anyone who would rather sit out the shopping rush.
Farmington's historic downtown area offers a quieter and more artistic vibe. It is especially attractive to anyone looking for locally-owned stores and local arts and crafts. Native American arts and crafts are a big draw. Several of the oldest traders in the Four Corners are scattered though the downtown area including Fifth Generation Traders and the Shiprock Trading Post. Popular Navajo artist and art dealer Anthony Emerson has just reopened his gallery at 121 W. Main Street. Artifacts Gallery at 302 E. Main features the work of many local artists and carries local products.
Andrea Kristina's Bookstore & Kafé is the "in" place for Chai lattes and good sandwiches downtown. Along with its regular selection of books, it is now selling books online. Three River's Brewery at the corner of Main and Orchard is known for hand- crafted beer, ale or cider and offers itself as "a husband babysitter" for ladies who are shopping.
Shopping, restaurant and hotel information, along with maps are available for travelers at the Farmington Convention and Visitors Bureau. Their offices are at 3041 East Main. Visitors are invited to call the Bureau's toll free number, 800-448-1240, for questions about accommodations and other things to do in the area. Check here for their listing of 2012 Holiday arts and crafts shows in Farmington including Salmon Ruins Holiday Arts & Crafts Fair and the Downtown Holiday Art Walk.