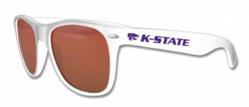 (PRWEB) November 14, 2012
Maxx HD® Sunglasses (MAXX) today announced that, a licensing agreement with Licensing Resource Group (LRG), a trademark management company, who offers full license management services to more than 180 colleges and universities, athletic conferences and special properties nationwide, has been approved.
MAXX HD® will develop a line of sunglasses with matching school colors and insignias for LRG licensed colleges and universities. "We have added new styles to our collegiate line which are extremely affordable but very trendy; we believe college fans will be thrilled." commented Maxx HD® Public Relations/Marketing Director Chana Kolman
Maxx HD® announced earlier this year, their licensing agreement with The Collegiate Licensing Company of Atlanta (CLC). With the new licensing agreement with LRG, MAXX HD® will be able to expand their vast line of college and university sunglasses. "We are pleased to add additional smaller colleges and universities to our existing collegiate line, and we are proud to be able to supply affordable eye protection to more fans nationwide." Bret Milner, MAXX HD® President.
MAXX HD® Sunglasses is proud to provide an extraordinary lens at a great value, giving customers the chance to experience High Definition lenses at a reasonable price point. For more information on MAXX or to preview the new LRG line of sunglasses please visit the MAXX web site at http://www.maxxsunglasses.com.