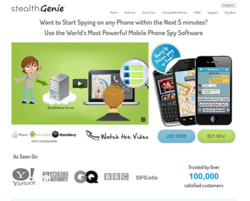 It's so easy to navigate through and everything works at double the speed!
(PRWEB) November 16, 2012
Popular mobile phone monitoring software developers StealthGenie, who are known for their constant innovations and technological advancements in the cell phone monitoring industry, have just released a brand new version of their website and user area. The new website features a totally new design while the user area has been given a facelift in addition to improved functionality.
Talking about the need for a facelift on the cell phone tracker's website, Amanda Wade, the marketing manager at StealthGenie said, "At SG, we believe in change and keeping up with the times which is why you will see us releasing new features every few months. The website overhaul was long overdue and we have been working really hard to make sure it is of the highest standards and makes our user's experience better than ever before." Speaking on the feedback they've been getting, she said, "Our existing customers just love the new look and faster speed of the website and user area while our sales are looking pretty good right now."
While just updating the look and feel of the website and user area has had a large impact, Martin Krajnak, the head of development at StealthGenie, tells us about the changes being made behind the scenes, "We've really tightened up the coding so the website pages load faster while we've tweaked the user area with more optimized data pull-up to make sure it is much faster and more accurate. We've gotten rid of any minor bugs that had been annoying users and added increased functionality like the ability to play media from the user area, increased storage space and the ability to change your user name whenever you want."
While the people at StealthGenie are quite pleased with how the new website and user area have turned out, even the users have been raving about this new development. As an existing customer, Rachel Hayes, put it, "Totally love the new look. It's so easy to navigate through and everything works at double the speed!" People who have difficulty keeping up with technology are also finding the user area very easy to understand as it has been designed keeping in mind the fact that not every user is proficient with computers. 63 year old user David Spencer said, "I don't have to read through massive manuals to figure out how the user area works, it's all pretty self-explanatory and even someone like me who is new at using computers can easily use the StealthGenie user area."
Once again, StealthGenie has proven to be the cell phone monitoring application that just keeps innovating. With new features and compatibility coming out every few months and now a massive design and performance overhaul, the eyes of the industry are glued on what they will come up with next. As the development team at StealthGenie put it, "We're just getting started!"
StealthGenie is a mobile phone monitoring application that can be covertly installed into the phones of your children or employees where it runs in the background and reports on their cell phone usage. The application gives users access to call records, SMS records, emails, photos, videos, GPS location and many more from the monitored phone. To check out the app and the new website for yourself, go to http://www.stealthgenie.com.