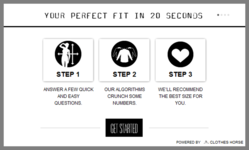 Working with Clothes Horse has been monumental in growing our business.
New York, NY (PRWEB) November 15, 2012
Clothes Horse, a New York based fashion technology company, and the leader in the Fit Guidance Solution Space, announced today a distribution partnership with BrightTag, as well as retail partnerships with Nicole Miller, Frank and Oak, Von Vonni and Ledbury. Shoppers can use the Clothes Horse product to learn what the best sizes are for them as they shop, and make educated purchase decisions based on how the clothes will fit their bodies.
The brands, which operate in places as diverse as New York City, Montreal, and Richmond, VA, are using Clothes Horse on everything from t-shirts, to pants, to dress shirts and dresses. By relying on Clothes Horse, they can focus on product and marketing, while Clothes Horse takes care of fit – and in the process, creates 12-15% more sales, 12% higher average order values, and 7-14% fewer returns.
"Working with Clothes Horse has been monumental in growing our business. Not only does it improve the shopping experience in a way that would not be possible with traditional merchandising, but it allows us to focus on design and other parts of our business, rather than worrying about communicating fit on our website," said Mike Malinsky, CEO of Von Vonni.
Working with BrightTag comes with even more benefits to retailers. Clothes Horse installation is as simple as dropping a line of javascript, but this can be challenging for brands with outside development shops. With BrightTag, installation is as simple as pressing a button.
"BrightTag's focus on performance is critical to what we see in the market, and their approach to tag management and real-time data integration has all of the right benefits for our retail partners. With our strengths combined, our mutual partners are going to have a serious leg up," said Vik Venkatraman, Co-Founder of Clothes Horse.
70% of shoppers hesitate to purchase because of uncertainty on fit. As more spend in fashion/apparel moves online, the major shopper complaint is inconsistency of fit, says the NPD group. Retailers need to get better at marketing and merchandising online, as shoppers have increasing reason to be fearful. Clothes Horse brings confidence to the most anxiety-ridden part of the sale through data-driven algorithms and a focus on customer experience.
Clothes Horse is the leader in the fast-growing Fit Guidance Solution space. They have the most proven results, fastest (and free) installation, and a fully white-labeled experience.
About Clothes Horse
Clothes Horse is a leading player in the burgeoning Fit Guidance Solution space. They were named one of the top 25 hot startups in NYC by Business Insider. The company is headquartered in New York City, and may be contacted at 732-982-7772, or info(at)clotheshor.se.