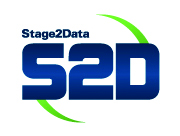 The challenge of unprecedented data growth is the theme of Stage2Data's newest video
Oakville, Ontario (PRWEB) November 26, 2012
Stage2Data, the data backup and recovery experts who recently surpassed the 1PB data under management mark, launched their newest marketing video and are pleased at the early reaction.
Through the use of animation, Jacques Swanepoel, Stage2Data President and CTO says the video addresses the growing concern of unprecedented data growth. Swanepoel reports "Every CIO, CTO or SMB owner sees data growth, data security and disaster recovery as a prime concern. We took that concern and turned it into a fun video that gets our point across."
The video, which runs approximately 3 minutes, takes the viewer from confronting the problem of unstoppable data growth to the core message which is what Stage2Data offers that solves their problem in a way that eliminates tape while saving time and IT budgets.
When asked what prompted the company to use animation instead of talking heads or powerpoint graphics, Swanepoel says "Our marketing team was looking to put a message out that not only answered questions everyone has, but was a welcome smile in the middle of everyone's busy day." Echoing that sentiment is Sharon Ricci of The Pop Shop, the agency that handles Stage2Data marketing. Ricci suggests "The use of animation for this corporate message was a way of giving our audience information in a way that's a break from the regular way they get information."
The animation for the video was done by Animatica Studios and the voice over was produced by Overnight Radio in London, Ontario.
To see the video, click here
Company Stage2Data
Stage2Data is a privately held company founded by Jeff Collier and Jacques Swanepoel in 2008. The company is dedicated to working with Enterprise and SMB's to safeguard their data against disaster or loss using the Cloud, Private Cloud, Software, Appliances and Archiving. Stage2Data is the Master Distributor for Attix5 in North America and is a recognized leader in backup and recovery. Stage2Data is headquartered in Oakville, Ontario with offices in the USA. For additional information about the company, please visit http://www.stage2data.com.