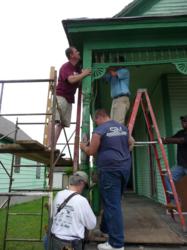 For those who contributed in so many ways to the "Cairo Shotgun House" efforts since 2008, it has paid off!
Boulder, Colorado (PRWEB) November 15, 2012
The Shotgun House historic preservation and adaptive re-use project, organized by Adventures in Preservation (AiP) in Cairo, Illinois in 2008, has resulted in a large grant from the Department of Labor. Southern Illinois University at Carbondale (SIUC) announces $730,000 has been awarded to support a YouthBuild educational program for at-risk youth developed by SIUC and the Cairo Delta Center.
The purpose of the Shotgun House project is to rehabilitate vacant shotgun-style houses into modern affordable housing. The grant awarded to the Cairo Delta Center will expand the original program by funding youth training for three years.
The grant provides the opportunity for more than 50 youth, who dropped out of high school, to gain their GED while learning construction skills with an emphasis on historic preservation. The grant also funds three faculty members and ten students per year from the SIU School of Architecture to be directly involved with the GED students.
Vacant historic shotgun houses will be the focus of construction work and will result in affordable housing that is historically appropriate for Cairo. The initial house repaired and rehabilitated by SIUC students and AiP volunteers will become a learning lab classroom facility.
Robert Swenson, Associate Professor Emeritus of SIUC School of Architecture, announced this exciting new educational opportunity for at-risk youth. "For those who contributed in so many ways to the "Cairo Shotgun House" efforts since 2008, it has paid off! Thanks to all of you, and especially [architecture students] Toni Lettiere, Jim Schmidt, and [community leader] Bill Harrell, who spent an entire summer making the shotgun house project a success."
For additional information on the use of vacant historic structures to provide affordable community housing, contact Judith Broeker or visit adventuresinpreservation.org.
Adventures in Preservation is a non-profit organization connecting people and preservation through enriching experiential programs. AiP's one- and two-week hands-on volunteer vacations give travelers the opportunity to truly experience their destination while learning and using hands-on skills. Volunteers help save valuable historic buildings vital to economic and environmental sustainability of the project community. Learn more at http://www.adventuresinpreservation.org.
Contact:
Judith Broeker
Adventures in Preservation
303.444.0128
http://www.adventuresinpreservation.org