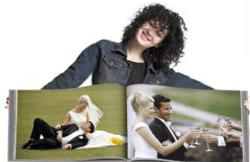 Honolulu, HI (PRWEB) November 15, 2012
Maui'd Forever is one of Hawaii's few full service, all-Hawaiian Islands wedding planner and coordinator. Founded in 2003 by entrepreneur Mark Steffan, the company operates on the Hawaiian Islands of Oahu, Maui, Kauai and the Big Island of Hawaii. They are now proud to offer a professional coffee style wedding album for only $295.
This offering is for Maui'd Forever customers who book a wedding, vow renewal or civil union package. The photographs can be from the client's photographer or one of Maui'd Forever's.
The album itself is hardcover and 11" X15" in size. Photo's within the album can be the full size of the page or can have any number of photo's on a single page. Several options exist on the cover and the quality of the paper. The standard $295 album contains 20 pages but additional pages can be added at $5 per page additional.
Mr. Steffan from Maui'd Forever tells us that, "I am the one that makes the albums and I can complete the album in a day and have it made and mailed so the client can usually receive it within 10days". He further says, "I can make the album with my own creative flair or the client can give input as to exactly what they want. When I make these albums I try to tell a story and emphasize the most important photographs by making them the full size of the page."
Their packages and their photographers can be previewed on the Maui'd Forever website. Their photograph packages all come with a CD of the photo's with rights to the images.