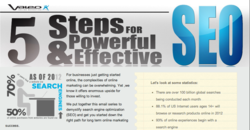 In this guide, we're trying to empower people to take control of their own SEO without the costs of hiring an online agency or SEO firm
Memphis, Tenn. (PRWEB) November 15, 2012
Recent Google updates have tanked some websites, but Memphis online marketing firm Valeo has written out the solution: everything you need to know to beat Google's latest updates in 5 emails.
In the email series, titled 5 Steps to SEO Success, the Valeo team has put together a step-by-step guide for an effective and low-cost search engine optimization campaign.
For Valeo President James Hutto, the guide serves as a roadmap for businesses from any industry to get started with SEO.
"With all the recent changes to Google as of late, we've been getting flooded questions about how to succeed in light of the latest updates," Hutto said. "In this guide, we're trying to empower people to take control of their own SEO without the costs of hiring an online agency or SEO firm."
"Modern-day Search Engine Marketing is completely within the average business' grasp IF they follow our process and put in the time," he added.
Subscribers to the email series will get information delivered to their inbox covering all areas of SEO including guides to researching your competition, optimizing your website for search engines, attracting customers, filling your sales funnel, and maintaining long-term SEO success.
"From start to finish, this email series has all the information you need to get started with a campaign," Hutto said. "No matter how experienced you are when it comes to SEO, the content in the emails provides an actionable plan that almost anyone can use."
Since 2005, the Valeo team has developed SEO and online marketing solutions for clients of all sizes from a multitude of industries. According to Hutto, the information in this guide comes from years of "being in the trenches."
"It's what we do," he said. "At our agency, we spend all day keeping up with the latest trends, reading industry blogs, and experimenting with SEO techniques."
Those who are interested in subscribing should visit http://www.valeomarketing.com/5-steps-to-seo-success/ to get started.
About Valeo Design & Marketing:
Memphis SEO and online marketing firm Valeo Design & Marketing offers innovative web solutions and effective Internet Marketing to clients of all sizes across all industries nationwide. At Valeo, we recognize the need companies have for every element of successful online marketing: branding, lead generation, website design, social media, content marketing, PR, and most importantly, analysis of their marketing data.