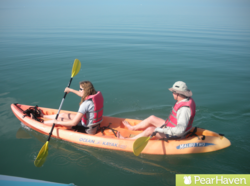 Staying active and finding new ways to spend time with your significant other are both important parts of maintaining your overall health.
Austin, TX (PRWEB) November 29, 2012
Couples who maintain physically active lifestyles together may experience more healthy, vibrant years to come. Latest scientific research from NIH confirms the importance of staying active. National Institutes of Health, November 6, 2012 report, "NIH study finds leisure-time physical activity extends life expectancy as much as 4.5 years." Even low levels of activity or no matter what the person weighs still extends the life expectancy years.
Finding ways to stay active is easier when couples do activities together such as tennis, hiking, bicycling, ice skating or walking. Brigham City Community Hospital, featured its, "Exercise for Couples," on October 23, 2012. The Hospital reported,"Staying active and finding new ways to spend time with your significant other are both important parts of maintaining your overall health. So why not spend a little QT (quality time) while getting proactive about your health? It's no secret that exercise yields widespread, life-altering benefits—helping stave off disease, injury and other ailments."
The Mayo Clinic, "Exercise: 7 benefits of regular physical activity," reports, "Exercise and physical activity can be a fun way to spend some time. It gives you a chance to unwind, enjoy the outdoors or simply engage in activities that make you happy. Physical activity can also help you connect with family or friends in a fun social setting. So, take a dance class, hit the hiking trails or join a soccer team. Find a physical activity you enjoy, and just do it. If you get bored, try something new."
It's easier to stay active when couples are involved together in leisure time physical activities. "Get Motivated to Exercise ," by Kathleen M. Zelman, MPH, RD, LD featured by Webmd website, promotes physical activity and its longevity benefits along with helping to prevent or improve health conditions such as heart disease, stroke and Type II Diabetes. Zelman states,"The National Academy of Sciences has recommended that everyone strive for a total of an hour per day of physical activity. Sounds like a lot, but the hour can be made up of several shorter bursts of activity (it can be walking, gardening, even heavy housecleaning) done throughout the day."
PearHaven is about maintaining a couple's relationship. What better way to enjoy life, activites, and each other than by participating in daily leisure activities such as walking, hiking, boating, swimming, kayaking, the list is endless. Leisure physical activity promotes longer life and better health. An active lifestyle is easier to maintain when a couple stays active together, takes walks, hikes, canoes, gardens. PearHaven members post a variety of date ideas that involve being physically active.
PearHaven encourages and promotes a couple's long-term romantic relationship. PearHaven.com uses different features to keep couples romantically involved with each other. The website suggests and maps out the best date ideas. The website also offers a fun game-like design called gamification where couples are rewarded achievement badges for their date experiences such as going on dates in different cities or connecting with other couples.
PearHaven's new iPhone App offers date ideas on-the-go. PearHaven's blog features relationship advice, dating ideas and fun trivia. With more options of competitive or game-like date ideas available to earn achievement badges, a place to share memories and photos, PearHaven couples have a place where they can enrich their dating experiences and strengthen their relationships.
About PearHaven
PearHaven is not a dating site.
It is a social website with free sign-ups for people of all ages who are dating, engaged or married. Members can record their dating experiences, connect with others, post photos and earn achievement badges for trying the latest date ideas. PearHaven.com suggests the best date ideas and maps the locations.The website was founded by David Lackey, a student at Princeton University. PearHaven has a new free iPhone App at the App Store to record date ideas on-the-go.