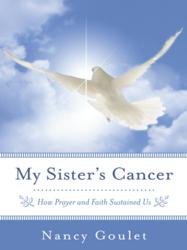 Marion, OH (PRWEB) November 19, 2012
Every year about 3,900 Americans lose their fight with metastatic sarcoma, according to the American Cancer Society.
Nancy Goulet's sister, Barb, was one of them.
In her new book, My Sister's Cancer, Goulet shares the journey of her family as they traveled down an eleven-month path from cancer diagnosis to death.
Offering tools for those facing a similar diagnosis, Goulet hopes to showcase how faith, courage and resolve can become daily gifts.
Revealing how her family collectively dealt with the realities of declining health and struggles to cope with inevitable loss, she hopes to provide comfort for those who question God's plan and wisdom.
"This is a book about love," Goulet says. "Our love for each other and God's love for us when we find ourselves thrown into a situation we cannot control."
My Sister's Cancer
By Nancy Goulet
ISBN: 978-1-44975-698-7 (sc), 978-1-44975-697-0 (e)
Softcover price: $9.95
E-book price: $3.95
Available at amazon.com, barnesandnoble.com, westbowpress.com.
About the author
Nancy Goulet has served as a United Methodist pastor in Ohio for 25 years. She is a graduate of Ohio State University and Asbury Theological Seminary. As a married mother of two, she currently lives in Marion, Ohio.