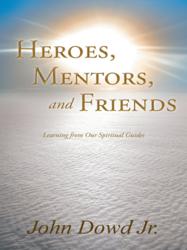 Worcester, MA (PRWEB) November 19, 2012
Happiness is a thought away, says John Dowd Jr.
In his latest books, Heroes, Mentors and Friends, he showcases how his professional and personal successes and failures led him down the path to true happiness.
Dowd offers hope and inspiration to cope with the current state of the economy, our fast-paced lives and current feelings of uncertainty.
This book gives the reader a profound insight into our "soul angels" and their miraculous influence on our lives. Heartwarming stories of courage, small acts of kindness and most of all, love, will bring a better understanding of the power they derive from our Source.
Dowd hopes the book will appeal to those readers who are seeking more meaning in their lives and will find this book brings them peace, happiness and direction.
"God exists in all of us," Dowd says. "We can tap into that source to bring peace and happiness to us and others."
Heroes, Mentors and Friends
By John Dowd Jr.
Paperback: $13.99, ISBN: 978-1-45255-515-7
Hardcover: $30.99, ISBN: 978-1-45255-516-4
Available at: amazon.com, barnesandnoble.com and balboapress.com.
About the author:
John Dowd Jr. is a 15-year student of spiritual and new age thinking. A 25-year broadcaster and radio personality, he got his start on the air at 16-years-old and is a four-time winner of Radio Ink's "Best Programmers in America" award. He has appeared as a voice talent on radio and television commercials across the country. Dowd has also appeared on three national radio countdown shows, and since 1991 has programmed nine radio stations throughout America. Dowd currently lives in Worcester, Massachusetts.