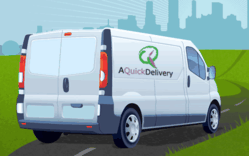 Atlanta, GA (PRWEB) November 15, 2012
AQuickDelivery, a leading provider of same-day delivery and distribution services, announces instant e-mail notification for all of their same-day deliveries. The same-day courier pursues to not only offer the actual delivery service on-time, but a high level of convenience within their customer service experience not expected within the courier industry.
The instant e-mail notifications will be issued to customers that place their orders via phone and online. When the customer is placing their order via phone, the customer service specialist will request the caller's name, phone number and e-mail address. Once the order is processed, the customer will receive immediately an order confirmation notification via e-mail with an order reference number.
With AQuickDelivery's advanced e-courier order system, the courier will send various other instant notifications regarding the customer's delivery status. The instant e-mail notifications will include a pick-up e-mail confirmation and delivery confirmation. The delivery confirmation will not only notify the customer their package or freight has been delivered, but also the exact time of delivery and who signed for the shipment. For online orders, customers have the ability to insert their e-mail address for the e-mail notifications they desire to receive.
AQuickDelivery is a recognized leader of courier and transportation services in the Atlanta area. The Atlanta courier provides same-day delivery services throughout Georgia as well. From small packages to palletized freight, AQuickDelivery is able to meet all of your delivery needs fast. Based in Atlanta, Georgia and services a growing list of over 1,500 clients with on-time delivery and superior customer service.