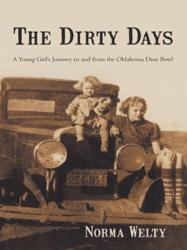 St. Paul, MN (PRWEB) November 19, 2012
While John Steinbeck wrote primarily about people who left the Oklahoma Dust Bowl, he never really knew what it meant to live there.
Author Norma Welty has translated her experiences growing up in the Dust Bowl into her fictional book, The Dirty Days.
The story is about a girl and her family facing a drastic change from their idyllic life in Arkansas when they move to Oklahoma. Readers follow the main character as she and her family endure many hardships, show resilience and determination and learn to work with others to survive.
"We all celebrate when those who struggle ultimately rise above impossible circumstances." Welty says.
Welty was inspired to write her book from the news she heard during the aftermath of the Oklahoma City bombing. Hearing stories of determination and support for the victims reminded her of her childhood in the Dust Bowl.
"My experiences growing up in southwest Oklahoma have served me well. I'm resilient, determined and full of hope." Welty says.
The Dirty Days shows readers a picture of what life really was like in the Dust Bowl. The stories about perseverance and hope are inspirational and recall a momentous time and place in American History.
The Dirty Days
By Norma Welty
ISBN: 978-1-4759-3150-1
Retail Price: $15.95 (soft cover)
About the Author
Norma Welty grew up during the Great Depression and left the Oklahoma Dust Bowl after high school. She settled in western Wisconsin and taught high school English for 21 years. At retirement, she moved to St. Paul, Minnesota, where she still lives with her husband. This is her debut novel.