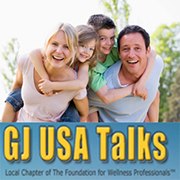 Grand Junction's leader in Health talks about Chronic pain, chronic fatigue, fibromyalgia, migraine headaches, Rheumatoid Arthritis, Multiple Sclerosis and more.
(PRWEB) November 15, 2012
Most people opt to live in pain rather than seek medical care. This is a fact that GJ USA Talks is working to change.
According to a report from the Institute of Medicine, almost one-third of American adults, approximately 100 million people, are affected by chronic pain. This is more than the total affected by heart disease, cancer and diabetes combined. Of those affected, about thirty five percent report their pain is "disabling," which is defined as severe and having a high impact on the functions of daily life.
While the statistics are staggering, pain research receives less than one percent of the National Institute of Health (NIH) budget. Currently there are no medications or treatments that effectively alleviate chronic pain with efficiency for the majority of patients. Doctors often use a trial-and-error approach, initially prescribing drugs with fewer side effects, reflecting the lack of effective treatment options.
Couple the lack of relief with the high cost of doctor visits and it comes as no surprise that the majority of people living in pain choose to continue to live with it rather than seek treatment. One local company, GJ USA Talks, is effectively changing these statistics with their series of educational seminars which are free to the public. BlueFinn Creative Group, a Grand Junction marketing firm, is helping to spread the word about these valuable and free workshops.
GJ USA Talks began about a year ago in Grand Junction, Colorado. While the rising costs of healthcare concern most Americans, GJ USA Talks has found that the most significant way to reduce these costs is to educate the public on ways to maintain their health and prevent disease. GJ USA Talks brings valuable information to the public on a variety of topics including trigger points, fibromyalgia, nutrition and sleep problems to name a few. Free workshops are held twice each month emphasizing preventative care as the key to good health. The instructors are volunteer healthcare professionals who teach participants how to discern helpful information from the hype, how to be responsible for their own health, and if outside care is needed, what the best options are for getting that care. Workshop attendees report significant improvement in their overall health, including a reduction in symptoms such as pain and fatigue all while reducing their number of doctor visits.
The Foundation of Wellness Professionals, founded in 1985, is an association of professional healthcare motivational and keynote speakers. This volunteer, not-for-profit association operates through independently operated chapters across the United States and Canada. Through The Foundation for Wellness Professionals, GJ USA Talks' mission is to help as many children and their families as possible with exceptional natural health care by educating them on how to live a healthy lifestyle. For a class schedule and a list of topics, visit http://www.gjusatalks.com.