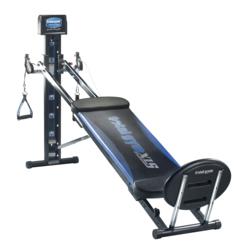 there is a reason why Total Gym has sustained its loyal following… it works. CHUCK NORRIS
West Chester, PA (PRWEB) November 19, 2012
Trusted for over 35 years, Total Gym has been empowering home users, physical therapists and fitness professionals for nearly four decades. With over 4 million customers worldwide, Total Gym has helped millions reach their fitness goals with best-selling models like the Total Gym XLS.
In fact, Power Reviews surveys show that 97% of Total Gym customers would recommend Total Gym to a friend and give Total Gym an overall score of 4.5 out of 5 stars.
Total Gym XLS targets ALL major muscle groups with just ONE workout. Resistance training, cardio training and stretching – everything the body needs, with over 80 exercises, on just one machine. Individuals can get a total body workout in as little as 10 to 20 minutes a day, making Total Gym at-home workouts more efficient and effective.
According to long-time user and spokes person, Chuck Norris, there is a reason why Total Gym has sustained its loyal following… it works.
No need to wrap, just a big red bow will do! The Total Gym XLS arrives fully assembled and ready to use out of the box, plus it comes with all the workout DVDs, accessories and tools needed to get started on the road to success.
The Total Gym XLS includes customized workouts for men, women and kids and workout programs from beginner to advanced + Pilates, delivering a total body solution that the entire family, at every fitness level, ages 8 to 80, can enjoy. It's the perfect Christmas gift.
In addition to the Black Friday Sale, Total Gym offers a 30-Day In Home Trial as well as convenient payment plans and Free Shipping on the Total Gym XLS. Limited time offer available exclusively at http://www.TotalGymDirect.com
About Total Gym® Direct
The Total Gym® is the ultimate workout machine utilizing an individual's own bodyweight as resistance to perform more than 80 total-body functional exercises. Total Gym uniquely incorporates the use of multiple muscle groups together in all planes of movement, the most efficient way to exercise and see results. Total Gym, rooted in the physical therapy market since 1986, entered the consumer "home fitness" market in 1996 with the airing of its first television infomercial featuring long-time user Chuck Norris and co-host Christie Brinkley. The Total Gym infomercial is one of the industry's longest-running and most successful; broadcast to 85 countries and credited with sales of over four million units worldwide. For more information, visit http://www.TotalGymDirect.com or call (877) TOTAL - GYM.
###