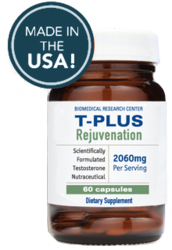 (PRWEB) November 16, 2012
There is a growing trend of pharmaceutical companies releasing commercials to the public promoting the positive effects of testosterone enhancement supplements taken by baby boomers. Health Research Labs has been watching these trends on their website, http://www.tplusrejuvenation.com. "The number of commercials emphasizing testosterone supplements and testosterone enhancement is staggering. I haven't seen an emphasis on testosterone enhancement like this in my 20 years in the supplement business. Men are bombarded by media, by advertising campaigns" says Alexander Philmore, President of HRL. HRL has known that testosterone levels in males decreases with age and that a testosterone enhancement regimen brings positive effects in mood, energy, virility and over all energy, especially in the ever growing baby boomer generation. To see the outreach of energy worldwide is something new altogether.
More men are getting older, and men are more open about talking about erectile dysfunction, lack of energy, less mental stimulation and overall degradation. Increased diagnosis of low testosterone is driven by an aging population, less stigma, and more precise tests. Men commonly say they feel excessively fatigued, weaker, depressed, and that they have lost their sex drive, all common symptoms of a drop in testosterone
Testosterone is a naturally occurring hormone produced in the male testicles. It helps maintain levels of reproductive tissue, stimulates sperm production, maintains sexual function, increases muscle and strength and contributes to bone health. As a male ages, his testosterone levels decline which brings the need for testosterone enhancement supplements. HRL has seen a trend of online sales due largely in part by the growing baby boomers. Signs and symptoms of low testosterone are hard to recognize. Symptoms are often attributed to general old age. Talking to a doctor is necessary to confirm whether or not aging males are actually experiencing symptoms of low testosterone. T Plus Rejuvenation is one of many products available online to combat these symptoms and enhance testosterone levels naturally.
T-Plus Rejuvenation is a natural testosterone supplement made from 12 testosterone enhancing ingredients including fenugreek. T-Plus Rejuvenation all natural testosterone enhancement supplements bind to Testosterone receptor sites and thus create more testosterone in the body without shutting off the body's own natural production of testosterone. In a recent randomized, placebo-controlled clinical trial, the main ingredient in T-Plus Rejuvenation nearly doubled (+98%) users' own Testosterone. Men whose testosterone levels were above average were 45 percent less likely to have high blood pressure, 72 percent less likely to have experienced a heart attack and 75 percent less likely to be obese than men whose levels were below average.
Low testosterone levels can lead to other medical conditions. It affects millions of men worldwide. Your doctor can tell you if you are experiencing serious side effects and benefit from a testosterone enhancement regimen.