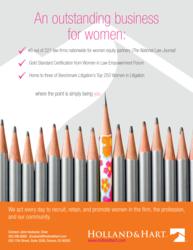 Denver, Colorado (PRWEB) November 15, 2012
Holland & Hart LLP is pleased to announce that the firm has received two platinum and three gold awards in advertising from MarCom Awards. In addition, the firm earned two honorable mentions. MarCom Awards is an international awards competition that recognizes outstanding creative achievement by marketing and communication professionals.
Holland & Hart earned the following:
Ad/Business/Trade Publication:
Platinum Award:
The Point – Outstanding Women
Every Deal is a Big Deal
Gold Award:
Holland & Hart Country
If Only It Were This Easy
Ads/Advertising Campaign:
Gold Award:
National Reach. Hometown Roots.
Ads/Magazine:
Honorable mention:
Boulder Roots
Ads/Newspaper Insert:
Honorable Mention:
Football Fan(demonium!)
The ads can be seen here: http://www.hollandhart.com/pdf/Holland_Hart_MarCom_ad_winners.pdf.
More than 6,000 entries from individual communicators to media conglomerates and Fortune 500 companies based throughout the United States, Canada and other countries were submitted for the 2012 competition. MarCom Awards is administered and judged by the Association of Marketing and Communication Professionals. The Association oversees awards and recognition programs, provides judges and sets standards for excellence. A complete list of Platinum Winners can be found on the MarCom Awards website at http://www.marcomawards.com.
About Holland & Hart
With its firm-wide resources, local presence and coordinated efforts, Holland & Hart LLP delivers integrated legal solutions to regional, national and international clients of all sizes.
Since its inception in 1947, Holland & Hart's more than 400 lawyers have consistently been recognized by leading national and international peer and industry review organizations for innovation and dedication to the practice of law.
For more information, visit http://www.hollandhart.com.