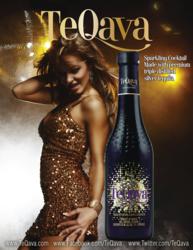 TeQava's bubbles are crystal clear and bright. It has amazing aromas....and delicate herbal tones in its finish.

Aspire Succeed Celebrate
(PRWEB) November 19, 2012
Certified by the Tequila governing body as the first "Coctel de Tequila", TeQava Sparkling Tequila Cocktail is now available on-line at http://www.zeetequila.com – home of the Tequila Superstore in California. Please see http://www.TeQava.com for retail locations.
TeQava is a high end, upscale Tequila drink in a stylish 375ml bottle 12% abv (24 proof). It's a perfect choice for holiday presents and to bring along to parties. TeQava is the timely ice breaker at gatherings. Be the first to introduce it to friends. It's slightly sweet, carbonated, and has a unique aromatic effervescence. Take the time to smell the notes of vanilla, caramel, and most of all, the agave. Enjoy TeQava chilled or on the rocks.
TeQava is imported from Jalisco, Mexico. It is made in small batches just like fine scotches and cognacs.
Production of this upscale Tequila drink is limited to a few thousand liters a month. Hurry and order your TeQava before it runs out for the holidays. Imported by Sparkling Tequila, LLC, Encino, California.