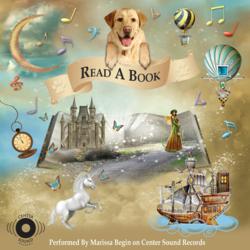 "We are excited about the concept of a music video, because it teaches, enforces learning, and provides another media where people with learning disabilities can benefit too," states award winning children book Author Anthony M.T. Majewski
Detroit, Michigan (PRWEB) November 20, 2012
Illiteracy affects nearly one billion people around the world. Because of this, Read With Max, LLC is working hard in conjunction with partner and music recording label Center Sound Records, Inc. to combat this humungous problem with the announcement of a casting call for adult and child talent for a music video to fight illiteracy.
This open audition is unique, because anyone has the opportunity to star with teen actress and singer Marissa Begin in the official "READ A BOOK" music video, as well earn a chance to win cash prizes. The grand prize is a spot in the video which will be featured on the Read With Max YouTube Channel at http://www.YouTube.com/ReadWithMax. So get creative and your dancing shoes ready for the audition! Pets are welcomed too!
To see the official YouTube Read A Book contest video announcement with over 28,000 views visit: Read A Book Music Video Contest Announcement
Like the song, the purpose is to motivate people of all ages to read a book and fight for children's literacy. Read With Max, LLC intends for the music video to further spread a promotion message for literacy through the internet, promotions, and other placements. "We are excited about the concept of a music video, because it teaches, enforces learning, and provides another media where people with learning disabilities can benefit too," states award winning children book Author Anthony M.T. Majewski.
Majewski wants to continue to build on the success of "Read With Max" because he values the importance of reading and music. This is just one of the ways Max can have a direct affect on millions of illiterate adults and children and hopes Max books and music will continue to serve as a catalyst.
For anyone not familiar with the award winning Read With Max Book Series, Max is the English Labrador dog who helps children manage real-life experiences from his point of view. Max is also the first dog signed with the music recording label Center Sound Records, Inc. out of Raleigh, North Carolina.
Also, award winning and Emmy® nominated writer/composer Craig Brandwynne teamed up with writer, Mike Grant, to help Majewski and Max produce "Read A Book" theme and children's music sing along song. "Read A Book," is a radio friendly mix with foot tapping beats. 50% of the proceeds of each purchase of the song will be donated to charities to help combat illiteracy.
Majewski and Max plan on continuing to promote literacy by writing additional books on subject matters children can relate with, hosting their annual fundraising book-a-thon event for a charity, and encouraging teachers, parents and children to participate in reading book clubs, contests, and music videos creations to encourage the importance of reading, learning, and music.
Max has been recognized for inspiring children, fundraising, and charitable efforts with his "Read With Max" series by United State Senator Debbie Stabenow, United States Congressman Sander Levin, and the current State of Michigan Governor Rick Snyder.
"Read A Book" is available on iTunes, CDBaby.com, and Amazon under artist Marissa Begin.
For more information about Read With Max, books, or music visit: http://www.ReadWithMax.com
CRAIG BRANDWYNNE
Craig Brandwynne has been in the music business for over 35 years and is an accomplished musician, composer, writer, producer and engineer. Brandwynne credits include television daytime dramas (Another World, Guiding Light, As the World Turns), feature films and television pilots. Brandwynne has written and produced music for artists and corporate clients as well as written for musical theater. In 2010, Brandwynne and The Rusty Bucket Kids television show received three Emmy® nominations at the 25th Annual Midsouth Regional Emmy® Awards for Music; Composer and Arranger / Set Design & Writer/Program.
CENTER SOUND RECORDS, INC.
Center Sound Records, Inc. was founded in 2007 to provide a wide array of services including recording, music publishing and production, marketing, publishing, location audio production, post-production services for feature films, management and licensing to developing artists and other like-minded and independent companies. Center Sound's goal is to provide its clients with a 'menu' of services for them to choose from. Center Sound's staff will tailor these services to meet each client's specific needs to help them advance their project, career or business.