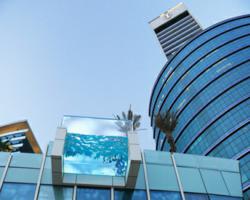 Acrylic is increasingly being used to enhance a pool into a show piece and focal point of a house.
Grand Junction, Colo. (PRWEB) November 15, 2012
Imagine a pool overlooking a pristine bay with seemingly no end to the pool and no beginning to the natural water. Picture a rooftop pool with swimmers hovering at the end of a clear wall looking onto the street below. Or envision sunbathers lounging on the deck looking directly through a clear window into the pool water and the swimmers within. Well, imagine no more - all these pools are not only possible, but they already exist around the world.
Getting to the finished product is simple, but not all that easy for those who don't do it every day. There are calculations to be performed, permits to be obtained, and budgets to work within. A new brochure from Reynolds Polymer Technology, Inc. (RPT) helps with at least a portion of the process when it comes to educating pool designers on what's possible and what isn't when it comes to using clear R-Cast® acrylic walls and windows in a pool design.
"We were fielding a lot of questions about the whys and why nots of a design once we'd submit a bid," explained Matt Houlihan, Vice President of Sales & Marketing. "This brochure was borne from those discussions. We wanted to have something available to act as a guide for pool designers wanting to use our material."
This pool design brochure offers key pieces of information that often come into play when working with R-Cast® acrylic. The brochure explains the key differences about type of panels – from monolithic to seamlessly bonded to mullions – and when each of those can be used in the pool design. It also educates readers about support structures needed when using R-Cast® acrylic panels, what to expect with each type of panel support, and the top edge finishes available.
The brochure ultimately serves as a starting point for pool designers interested in completing their project with an R-Cast® acrylic panel. "Acrylic is increasingly being used to enhance a pool into a show piece and focal point of a house," said Houlihan. "This brochure is aimed to aid those designers working on this increasingly popular type of installation."
To request your free copy of the pool design brochure, call 800-433-9293 in the US (+00 1 970 241 4700 international) or e-mail sales(at)reynoldspolymer(dot)com.
About Reynolds Polymer Technology, Inc.
Reynolds Polymer Technology, Inc. has completed more than 1,600 projects in 53 countries in their nearly 30 years in business. RPT is known as the leading manufacturer, fabricator, designer, and installer of R-Cast® acrylic and resin sheets. In fact, RPT is the only acrylic aquarium panel manufacturer in the U.S. Their products have been used extensively in the architectural, signage, aquarium, water-retaining, and scientific industries worldwide, including major projects in Asia, Europe, the Middle East, and South America. RPT is constantly raising the standard for what can be done with acrylic and resins. Headquartered in Grand Junction, Colorado, RPT also has operations in Rayong, Thailand. Visit http://www.reynoldspolymer.com for more information. Proud member of the U.S. Green Building Council.