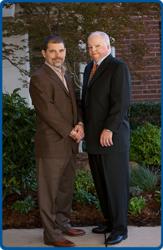 Edmond, Oklahoma (PRWEB) November 26, 2012
WeightWise Bariatric Program, a leading provider of weight loss surgery solutions to residents in Oklahoma and much of the Midwest, recently passed the 2,000 mark for successful weight loss surgeries at their Edmond, Oklahoma hospital.
While 2,000 is a nice round number to celebrate as a milestone, it's so much more about the quality than quantity. That's why the most important news coming from WeightWise is their perfect record of no fatal surgical outcomes.
Fatalities remain rare in bariatric surgery, but as is the case in all major surgical procedures, they do happen. Even in the best bariatric centers across the U.S., the mortality rate is 0.5 percent, or 1 in 200 operations. To date, there has not been a single fatality at the WeightWise Bariatric Program.
"Our zero mortality rate at WeightWise is a function of a tightly integrated multidisciplinary team following well-defined preoperative protocols," says Dr. Gregory Walton. "Being disciplined to our protocols was difficult initially, however the results have continually reinforced the benefits in regards to safety and long term outcomes."
The success of WeightWise's bariatric procedures results in much more than the desired outcome of weight loss. There is a long list of health benefits patients can see. Here are just a few issues that are resolved, along with the average success rate:

Sleep apnea 90%
Type II diabetes 86%
GERD 95%
Hypertension 60%
Knee/ankle pain 90%
Since WeightWise was founded in 2006, Dr. Toby Broussard and Dr. Gregory Walton have distinguished themselves as world class bariatric surgeons. They have transformed the lives of 2,000 bariatric patients and counting.
For more information on the weight loss surgery solutions offered by WeightWise, and how out-of-town patients can make their experience a smooth one, go to http://www.weightwise.com.
About WeightWise
WeightWise Bariatric Program, a weight loss surgery center in Oklahoma, emphasizes a multidisciplinary approach with their patients. One of the things that sets them apart from other clinics is that they offer patients all the health care professionals they need at their facility, rather than referring them to outside help. This helps build a cohesive approach to surgical weight loss, making the patient comfortable knowing every question they may have can be answered at the WeightWise offices.